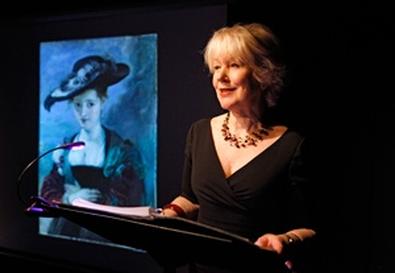 The beauty of "Give Me Your Hand" is not merely what we see and hear before us, intriguing as that is. The show serves as a pathway to the essence of art itself, connecting us to the creator's impulses to send us on flights of our own. Inspired by paintings in the National Gallery of London, Irish poet Paul Durcan dreams up biographies for portraits or interprets captured moments. As the script says, he "treats the paintings like kites in the gusty air of his imagination."
As acted with love and delight by two of Ireland's finest actors, Dermot Crowley and Dearbhla Molloy, this is far from a docent's lecture on art appreciation. With humor and delicacy, Crowley and Molloy are the conduits between the framed masterpieces hanging so decorously on the gallery's walls and what Durcan observes in his poems. He gives voice to the portraits, as having the subject of Rubens' "Susanna Lunden" say of the artist, "How I'd like to parcel him up and take him away with me/And play with him for two weeks." Another subject, Lord Ribblesdale, criticizes his creator, John Singer Sargent, with "If your first impression of me/Is that I'm haughty/I forgive you." Durcan invigorates the subjects, reminding us that they once walked the earth. At times Durcan has the devil in him, as witness his riff on de Champaigne's "Cardinal de Richelieu," whose subject is imagined as telling his mother, "What takes precedence in my life/Is not you or wine but my red biretta."
Along the way we're treated to the difference between "naked" and "nude," the synergy between pleasure and pain, and the sentiment "You cannot have love without war and…you cannot have war without love." We laugh at Rubens' depiction of Samson and Delilah, she chatting away while he sleeps exhausted in her lap, unaware of the effete barber ("trained in Cleveland, working in Antwerp") cutting his hair. We're also surprised by Durcan's contemporary views on traditional subjects, none more so than how he starts his poem on van der Werff's "The Rest on the Flight Into Egypt," in which he has the Virgin Mary say, "My only son died aged 33 of AIDS." That plague comes up again in Reynolds' portrait of General Sir Banastre Tarleton.
Richard Twyman directs with variety and pace. Vital to the evening are images of the paintings, realized by Daniel Grixti's video filming and editing and supported by Jamie Beamish's original music and technical direction. Crowley is endearing and passionate, conveying love for the artwork. Molloy delineates serious and comic characters so distinctly and in so many accents that they jump off the canvas. Even standing behind lecterns and reading from scripts, the actors' chemistry is palpable, especially when they inhabit the figures in Jordaens' "Govaert van Surpele and His Wife." Durkin imagines van Surpele as "vain but not conceited" and his wife as a Matterhorn to her husband's Mont Blanc. She says, "He is an EEC Commissioner/Who fancies himself as a poet/A diplomatic troubadour/And I am his muse to amuse." Durcan the poet, as muse to Crowley and Molloy, provides us with a most amusing evening.
Presented by and at the Irish Repertory Theatre, 132 W. 22nd St., NYC. March 11–April l. Wed.–Sat., 8 p.m.; Wed, Sat., and Sun., 3 p.m. (212) 727-2727 or www.irishrep.org