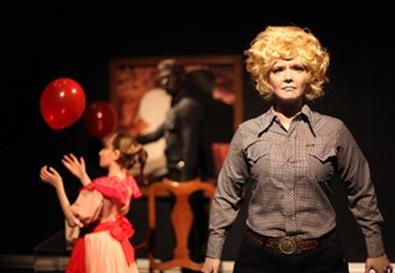 If you go to see "Here I Go," and I don't recommend you do, be prepared to spend 60 minutes listening to the rambling thoughts of a 60-year-old suicidal grandmother who idolizes Dolly Parton. If you sit in the second row, before the play begins -- as you watch video footage of Parton -- you will be given a tiny plastic cup containing a cookie, but no instructions on what to do with it. Those seated in the first row have their cookie cup handed to them by the leading lady during the show. Those in the back two rows, I believe, go hungry.
Making repeated, intertwined appearances throughout the evening, four actors portray the main character at various stages of her life, yet no one speaks. The meandering text, written by David Todd, is heard as a voiceover (recorded by Julie Nelson) and ornamented by representative stage business and surrealist images. The cast also includes a completely "blackened" white actor -- in all black clothes, hair dye, and blackface -- who is the woman's dead husband, I think.
Extensive use is made of provocative props. A happy–looking little girl aims a pistol at the audience. The woman, at 26, always appears sporting a horse head, which is fed a carrot by the 60-year-old. The youngest selves break eggs into a bowl, and an electric mixer is used to stir up a fluffy dessert of sorts. Red balloons are blown up and popped intermittently. At one point the actors execute a line dance. On the back wall hangs a framed portrait of the woman and her man; he is just a black silhouette, and she a white shape with paint-by-numbers indications on it.
Under the direction of Luke Leonard, who is also credited as production designer, the whole thing feels like an academic exercise in opaque theatrical symbolism. The cast, however, does some good work. Made up to look like a mannequin and consistently moving in lifeless slowed-down motion, Natalie Leonard gives a commendably mysterious performance as the 60-year-old. The polished child performer Gates Loren Leonard plays the woman at age eight with verve and exactitude. And Marian Ilardi-Lowy, as a plump 16-year-old dressed like Dorothy headed to Oz, offers some pleasing country and western singing.
Presented by and at 59E59 Theaters, 59 E. 59th St., NYC. May 24–June 2. Tue.–Thu., 7:30 p.m.; Fri., 8:30 p.m.; Sat., 2:30 p.m.; Sun., 3:30 p.m. (212) 279-4200 or
www.59e59.org
.