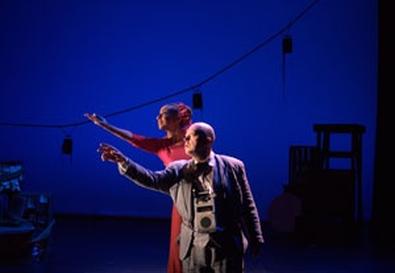 What happened to the light bulbs? By eliminating the red and white lamps that graced the original 2000 production of "And God Created Great Whales" and shifting focus, Culture Project's revival loses mystery. Let's not be sticklers: Revivals often "improve" on the original, and no one is faulting the actors, director, and designers for not slavishly re-creating what once was. But here the result is less metaphysical, mythological, spiritual, iconic, and sociological than remembered.
Author Rinde Eckert's riff on Herman Melville's "Moby Dick" is still a noble attempt at whittling that magnificent work down to manageable size. Eckert also has one of the evening's two roles, that of Nathan, a piano tuner who's suffering from oncoming memory loss. Working with several tape recorders, he strives to complete his operatic version of the great American novel before his mind fades out altogether. Prodded and encouraged not only by his disembodied, taped voice but also by a muse in red (Nora Cole, also repeating her initial stint), he creates operatic arias and scenes that are interposed with more-realistic glimpses of his impending doom. By the time he reaches the novel's final apocalypse, his mind has gone, yet snatches of the opera on which he labored so mightily rescue him, as Melville's Ishmael is rescued, through the power of art.
Eckert, who portrays characters derived from Ishmael to Father Mapple, Queequeg, and Ahab, also composed the music, with its echoes of Benjamin Britten. His score ranges from deep rumbles to falsetto heights, rendered in his powerful voice. Cole sings also, portraying both Nathan's muse and a retired opera singer bent on somehow appearing in the all-male "Moby Dick" opera, even if only as an apparition or an angel. If memory serves (and it may not), Cole's part has been built up. Mocking and supportive, rapturous and grand, she now seems less a collaborator and more an equal partner in creation. Less pointed too is the idea of Nathan as a vulnerable soul reeling in space. He becomes, all too literally, an idiot savant piano tuner spurred on by a diva.
John Torres and Caleb Wertenbaker's lighting and set designs are based on Kevin Adams' originals; both costume designer Clint Ramos and director David Schweizer repeat their assignments. In Schweizer's hands, the 80-minute evening seethes with portent. "And God Created Great Whales" is still a haunting experience, but what was once celestial has become earthbound.
Presented by Culture Project, in association with Elisha Wiesel, at Culture Project, 45 Bleecker St., NYC. Feb. 12–March 25. Tue.–Sat., 8 p.m.; Sun., 3 p.m. (Additional performances Mon., Feb. 13 and March 12, 8 p.m.; no performances Tue., Feb. 14 and March 13.) (212) 352-3101, (866) 811-4111, www.theatermania.com, or www.cultureproject.org.