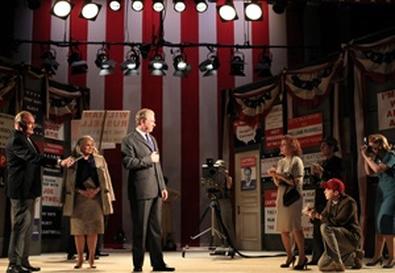 "Gore Vidal's The Best Man" may be 52 years old, but that's no impediment to director Michael Wilson's crackling production at the Gerald Schoenfeld Theatre. Indeed, Vidal proves depressingly timeless in this gimlet-eyed analysis of American politics that takes place at an unnamed political party's 1960 presidential convention. Featuring a large and starry cast that (with one exception) delivers the goods with panache, the show is as outrageously entertaining as it is relentlessly penetrating.

As Vidal reveals in a preface to the published script, he wrote the play to "demonstrate how, in our confused age, morality means, simply, sex found out." Americans don't consider "cheating, character assassination, hypocrisy, [and] self-seeking" disqualifiers to public service. For his battling candidates, Vidal created the liberal William Russell, a philosophically lofty former secretary of state whose womanizing has put his marriage in the deep freeze, and the conservative Senator Joseph Cantwell, whose wholesome family life masks a ruthless determination to acquire power. The two men are vying for the endorsement of former president Arthur "Artie" Hockstader, a feisty practitioner of realpolitik. Cantwell trails Russell and is planning to use an explosive secret about a purported "nervous breakdown" to derail him. Russell stays on the high road until tempted by the report of Cantwell's alleged homosexual affair. Who will do what to whom?

Though supposedly inspired by Adlai Stevenson and John F. Kennedy, Russell and Cantwell are original characters, and John Larroquette and Eric McCormack are well-matched in the roles. Wielding his razor-sharp wit as a weapon to keep all and sundry at bay, Larroquette's Russell has just enough smug piety in his windy protestations of virtue that we're kept guessing as to just how moral and decisive he really is. McCormack gives Cantwell a Southern populist edge, saturating his shiny senator with a vapid self-interest that leaves Cantwell believably clueless about reading others. Bouncing between them is James Earl Jones, as Hockstader, having a high old time as a crusty white pragmatist unafraid of getting his hands dirty. Jones' mixture of gleeful grit and folksy sentimentality is riveting.

Candice Bergen does notable work as Russell's wife, Alice, suggesting her plain roots while also showing us an acquired sophistication and curdled cynicism that are the price she's paid for a life in politics. Bergen is admirable in her ability to play several emotions at once (just watch her reaction in her first scene when Alice's husband suddenly pats her shoulder). Kerry Butler, alas, is a good deal less successful as Cantwell's other half, Mabel. Butler fastens on to every Southern-belle cliché in the book, using busy body language and artificial vocal tricks to try to wring laughs, all at the expense of depth and believability.

As Mrs. Sue-Ellen Gamadge, the ladylike yet steely chair of the party's women's division, Angela Lansbury steals both her scenes, radiant with complacent certainty while ever vigilant for chinks in a candidate's armor and spicy with a girlish giddiness at being so close to the center of power. Michael McKean's flinty, been-there-done-that Dick Jensen, Russell's campaign manager, stands in effective contrast to his counterpart, Corey Brill's Don Blades, whose nervous, white-bread, bullying boyishness is exactly what would attract a Cantwell. Dakin Matthews is wonderfully funny as an amoral Southern senator, and Jefferson Mays, as Cantwell's accuser, is vivid as a shambling neurotic.

The terrific physical production puts us on the convention floor, thanks to Derek McLane's immersive set, which decorates the house in banners, placards, and period TV sets, and sound designer John Gromada's continuous loop of bombastic patriotic music and crowd sounds. Kenneth Posner's lights add gusto, and Ann Roth's costumes reinforce period and character.

Vidal's insights resonate today, whether in Tea Party true-believer pressure or birth control controversies, to the point of being scary. There aren't many plays at which the audience regularly applauds the dialogue. You'll likely applaud much more than that in Wilson's grandly satisfying revival.

Presented by Jeffrey Richards, Jerry Frankel, Infinity Stages, Universal Pictures Stage Productions, Barbara Manocherian/Michael Palitz, the Broadway Consortium/Ken Mahoney, Kathleen K. Johnson, Andy Sandberg, Fifty Church Street Productions, Larry Hirschhorn/Bennu Productions, Patty Baker, Paul Boskind and Martian Entertainment, Wendy Federman, Mark S. Golub and David S. Golub, Cricket Hooper Jiranek, Stewart F. Lane and Bonnie Comley, Carl Moellenberg, Harold Thau, and Will Trice at the Gerald Schoenfeld Theatre, 236 W. 45th St., NYC. April 1–Sept. 9. Tue. and Thu., 7 p.m.; Wed., 2 and 7:30 p.m.; Fri., 8 p.m.; Sat., 2 and 8 p.m.; Sun., 3 p.m. (212) 239-6200, (800) 432-7250, or www.telecharge.com. Casting by Telsey + Company/Will Cantler.