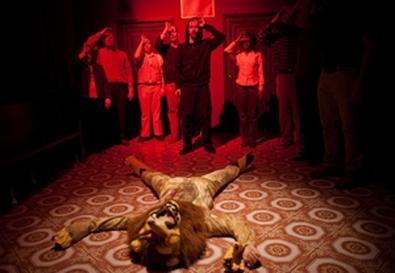 "Part of joining something is not joining something else. It's a positive choice, and it's also a negative choice." So warns an elder statesman to a younger recruit, who sits across from him in a makeshift courtroom as fellow members of his mysterious "membership society" watch, rapt, on either side of the aisle. The scene is tense and, with its context obscured from the audience, feels like it belongs to a new Pinter play. That is until one of the onstage spectators breaks into a smile: "That was great! Very moving."
Such is the push-and-pull of "All Hands," the new ensemble piece by the always innovative company Hoi Polloi, which takes community as its theme and project. The challenge of turning theater attendance into an experience of collectivity is at least as old as the Performance Group's "Dionysus in '69," but in the revolutionary fervor of the 1960s, the goal was to destroy the boundary between what's aesthetic and what's "real" to make changing the world through political protest seem possible. Here, what's being celebrated is the experience of making a newer, better world within the "real" one. It doesn't matter what material effects the rituals have, only how it feels to get the steps right.
We watch as 19 performers—one of the largest casts I've seen in the former home of the Ontological-Hysteric Theater—enact an elaborate series of "ceremonies," with no purpose beyond their completion. They initiate new members (each christened with the name Henry), watch slideshows about subjectivity under global capitalism, subdue enemies, dance, chant, and in one elaborate sequence dress an initiate as a lion and sacrifice her. Naturally, she returns to the stage for the next scene.
Half the charm of "All Hands" is its ensemble, whose organic collectivity is an inspiration. Framed by Mimi Lien's Alice-in-Wonderland set (think baroque floor patterns, tiny doors, and every shade of orange), the cast members carve out different personalities, each equally committed to making something bigger than themselves.
The other half of the show's appeal comes in the way playwright Robert Quillen Camp and director Alec Duffy tease their audience. Again and again, they find new ways to promise an explanation of their "society," only to defer clarity with a fresh mystification or joke. Learning to enjoy a puzzle with no solution means taking pleasure in the doing rather than in the thing done. Hoi Polloi has made that journey into theatrical magic. It is indeed great and very moving.
Presented by Incubator Arts Project at St. Mark's Church 131 E. 10th St., NYC. March 10–31. Thu–Sat. 8 p.m.; Sun., 7 p.m. (212) 352-3101, (866) 811-4111, www.theatermania.com, or www.incubatorarts.org.