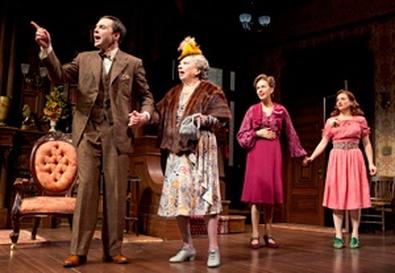 Never underestimate a warhorse. Though I've enjoyed "Harvey" in the past, particularly in the hands of Helen Hayes and James Stewart in a 1972 TV version based on their hit Broadway revival, I really didn't expect Mary Chase's popular 1944 comedy to fly in our much more cynical age. So I'm happy to report that Roundabout Theatre Company's production at Studio 54 is a lighter-than-air lark grounded by a strain of touching melancholy. Chase's gentle fable about the costs of conformity and the human need for connection states universal truths that continue to resonate. It's also a hell of a lot of fun.
Under director Scott Ellis' careful eye, Chase's tale of the courtly Elwood P. Dowd and his best friend, Harvey, a pooka who takes the form of an invisible white rabbit standing 6 feet 3 1/2 inches tall, gets some judicious pruning. A minor character (the family maid) is jettisoned, and three acts are collapsed into two, but nothing important is lost. The notorious Elwood, the city of Denver's reigning eccentric, remains the reason why his young niece, Myrtle Mae Simmons, can't get a date, to the great chagrin of her mother, Elwood's snappish sister Veta Louise. When Veta tries to get her brother committed to the local sanitarium run by the nationally prominent Dr. William R. Chumley, delightfully comic mayhem still breaks loose.
Elwood is a role that has attracted a host of stars, from its originator, the vaudevillian Frank Fay, to Stewart, who replaced Fay in the original Broadway run and starred in the 1950 film, and Art Carney, of "The Honeymooners" fame, who played it on TV in 1958. Jim Parsons isn't much like any of those gentlemen, but he makes Elwood his own in an impressive turn. Chase describes Elwood as "dignified" yet "dreamy," "benign" yet "serious," and Parsons takes her at her word with wonderful stylization while adding just the slightest touch of dry humor. He is so convincing in his give-and-take with Harvey that we almost begin to see the mischievous sprite. Parsons stresses Elwood's concern for others and generosity of spirit, undergirding it with a touch of steel. He's terrific.
Just as good is Jessica Hecht as Veta, who bucks tradition by giving us a younger, more vital woman who's not yet a dried-up matron. Hecht projects maternal warmth as well as pushy social pretensions (her self-consciously cultured accent is just right), and she's a riot providing Veta with a substantial though repressed sexuality. She and Parsons excel at creating a loving sibling bond despite all the squabbling, making Elwood's climactic decision to take Dr. Chumley's cure work better than I have ever seen.
Tracee Chimo is a delicious Myrtle Mae, full of conniving self-interest yet girlishly vulnerable. The redoubtable Charles Kimbrough is a pompous, addled hoot as Dr. Chumley, who decides that he wants Harvey for himself. As Mrs. Chumley, Carol Kane is spectacularly daffy. Rich Sommer wisely underplays Wilson, Dr. Chumley's burly orderly, to good effect. As a nurse and a young doctor involved in an opposites-repel-and-attract relationship, Holley Fain and Morgan Spector do what they can with rather stock roles while fitting snugly into period.
Ellis melds it all together with a sure touch and has elicited a top-drawer physical production as well. David Rockwell has designed a warm, rich, well-appointed library for the Dowd home that's the perfect counterpoint to his genteel mint green–and–white sanitarium waiting room. Jane Greenwood's deliberately tasteful costumes reinforce era and character (loved her opening dresses for Veta and Myrtle Mae). Kenneth Posner's lighting makes good use of Rockwell's overhead cyclorama of stylized leaves as we journey from a glowing late afternoon through pastel evening and into dark night. Sound designer Obadiah Eaves' sprightly music sets just the right tone.
I still don't think that "Harvey" deserved its Pulitzer Prize over "The Glass Menagerie." But by treating it with a respectful seriousness and a sense of discovery, Ellis and his talented collaborators have hit pay dirt. What's next? "Arsenic and Old Lace," with Angela Lansbury and Zoe Caldwell?
Presented by Roundabout Theatre Company, in association with Don Gregory, at Studio 54, 254 W. 54th St., NYC. June 14–Aug. 5. Tue.–Sat., 8 p.m.; Wed., Sat., and Sun., 2 p.m. (212) 719-1300 or www.roundabouttheatre.org. Casting by Jim Carnahan and Stephen Kopel.