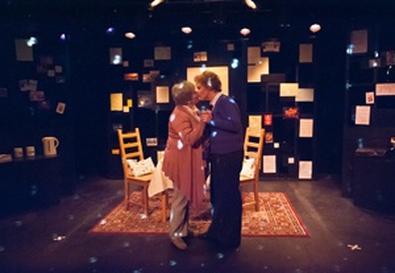 This modest study of two Dublin lesbians of a certain age glows like a small gem, a stone shining with common sense and shot through with gleams of laughter, affection, and keen observation. The 75-minute play was written and directed by Amy Conroy, developed with Clare Barrett, and features both women as its cast. Originating at the 2010 Dublin Fringe Festival, the production comes fresh from a brief season at Dublin's Abbey Theatre. And fresh it is, exhibiting that elusive theatrical quality of charm, even better here for being Irish charm. Spoken softly (both actors wear obvious body mikes), the proceedings never cloy, having pain as their ongoing undercurrent. "We were always aware of what could happen; we could lose our jobs" says Conroy's Alice Kinsella. "Very, very discreet," agrees Barrett's Alice Slattery.
Yes, this is the story of two Alices, who have known each other since childhood and are now retired and living together in Dublin. When Kinsella impulsively kisses Slattery while in the soup and canned goods aisle of the Tesco supermarket, they are observed by a local writer, who would like to make a play about them. Thus we have a rather shaky opening of a faux documentary, with both performers nervously speaking. It's a coy device that happily soon evaporates as we are drawn into the lives of these two interesting women. Kinsella ran off to London at age 20: "The funny thing about running away is that you bring yourself with you." Working at the Times newspaper, she began her complicated lesbian love life. When Kinsella returned to Dublin to nurse her ailing mother, she found that Slattery had been married for four years to Liam. The women's friendship was quickly renewed. At the deaths of both Kinsella's mother and Slattery's husband, they became closer.
So begins an examination of the world of the two Alices. It's the accumulation of domestic details that gives the play its authenticity: passion, travel, differences in religious faith, menopause, Dusty Springfield, infidelity, cancer, Key West, and coming out. There's no tub-thumping until the very last paragraph, and by then you're ready to forgive almost anything. This includes the cozy passing of a relevant photograph into the audience, which is followed at tea time by a plate of cake (it was delicious).
Conroy's Alice is the proactive partner, a discreet pioneer, while Barrett's Alice is the initially reluctant, ultimately eager convert. Most important, both actors convincingly convey—without a touch of mawkishness—a genuine loving relationship. As Kinsella at one point remarks: "A small life, a small existence." This then is a small play, but one with a big heart.
Presented by and at Irish Arts Center, 553 W. 51st St., NYC. March 4–17. Wed.–Fri., 8 p.m.; Sat., 2 and 8 p.m.; Sun., 3 p.m. (212-352-3101, (866) 811-4111, www.theatermania.com, or www.irishartscenter.org.