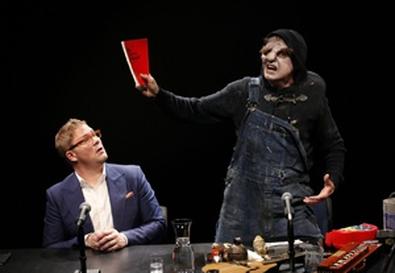 As concepts go, the one behind Mickle Maher's libretto for "The Hunchback Variations" (based on his own play of the same title) couldn't be quirkier. The chamber opera brings to life a series of presentational talks featuring Ludwig van Beethoven (George Andrew Wolff) and Quasimodo (Larry Adams), who are exploring a disastrous collaboration they had in 1825, when they tried to create an "impossible sound." Though this two-person work—with a score for piano and cello by Mark Messing—has the potential to be an utter snoozer, it turns out to be a thoroughly riveting piece.
The men are revisiting their attempt to create a sound effect called for in Anton Chekhov's "The Cherry Orchard," a noise that comes "as if out of the sky, like the sound of a string snapping, slowly and sadly dying away." We learn of different aspects of the process, such as Beethoven's disdain for Quasimodo's "bell table," which has no top, and Quasimodo's bitterness over what his collaborator did (or didn't do) during their time together. Ultimately, what emerges is a remarkably poignant exploration of the painfully ephemeral nature of the artistic process and life itself.
Maher's text never observes any sort of period, and it's a tribute to the creators and performers (who've worked without a director) that the production is so tautly delivered that we never question how a historical figure who died in 1827 and a fictional one who expired a few years later came to confront a conundrum posed by a play written at the turn of the 20th century. Instead, we concentrate on the characters' yearning and restless natures as they wrangle with the artistic and personal issues at hand.
Messing's accomplished score is an aural smorgasbord that deftly revels in and fuses wide-ranging musical styles, from opera buffo to contemporary musical theater, from alternative jazz to musical minimalism. Paul Ghica (cello) and Christopher Sargent (piano) play it with beautiful delicacy, while the graceful tenor Wolff and the commandingly powerful bass-baritone Adams glide with precision over some exceptionally tricky melodic lines.
Even more impressive are the ways in which the two performers demand attention while sitting behind a folding table from which they rarely rise. Wolff, who visually brings to mind a man ready to go boating on Long Island Sound, uncovers diverse shades in Beethoven's sometimes glib, always to-the-manner-born veneer. Adams, whose face is almost completely obscured by a mask (from Richard Henzel) and a bulbous prosthetic nose (from Missy Swanson), astonishingly manages to communicate volumes with his body language and one clearly visible eye.
Jesse Klug's gentle lighting provides an emotionally charged atmosphere even as it re-creates the basic blandness of an auditorium's harsh white lighting, proving particularly effective when this cunning theatrical lark reaches its unexpectedly moving conclusion.
Presented by Brian W. Parker Productions and Theater Oobleck at 59E59 Theaters, 59 E. 59th St., NYC. June 10–July 1. Tue.–Thu., 7:15 p.m.; Fri., 8:15 p.m.; Sat., 2:15 and 8:15 p.m.; Sun., 3:15 p.m. (212) 279-4200 or www.ticketcentral.com.