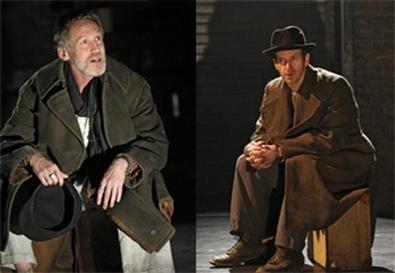 "It's always something," cries the Poet, as he describes the causes of war. Sometimes it's a beautiful woman, a game, pride, religion, or land—but it's always some ridiculous, meaningless catalyst that sets off the chain of events causing death and destruction. That's the sad, painful message of "An Iliad," the solo theatrical adaption of Homer's classic by the actor Denis O'Hare and director Lisa Peterson. O'Hare is performing the powerful piece in repertory with his fellow Tony winner Stephen Spinella at New York Theatre Workshop. It's an exciting opportunity to examine contrasting approaches to the same material and to view an ageless classic through new eyes.

O'Hare and Peterson, who based their script on a translation by Robert Fagles, imagine an immortal storyteller bringing his rendition of the tale of the Trojan War to a modern audience. The usual flashy elements and characters—the Trojan horse; the gorgeous Helen; the handsome Paris, who steals her from her homeland; the competition among the goddesses for who is the most fair—are given short shrift to focus on heroes on either side of the conflict, Achilles for the Greeks and Hector for the Trojans. They are honorable, noble men driven to murder and madness by their countries' senseless conflict. The Poet laments such waste and draws contemporary parallels to demonstrate that this is a universal tragedy. At one point, he says, "This reminds of one time…" and then launches into a deadening list of all the wars in recorded history.

Each performer gives a tour de force turn, technically and emotionally dazzling, yet each is distinct in his attack. Take that laundry list of battles. Spinella recites it with mounting horror, building in intensity with every bloody entry. O'Hare varies his readings, starting casually as if he's trying to remember a specific example, but then the endless vision of carnage assails him, and he finally drops exhausted as he reaches the current debacles in Afghanistan, Iraq, and Syria. Both are valid yet unique takes on the scene.

The actors' overall interpretations are also distinct. Spinella disappears into the numerous characters—creating separate impersonations through body language and vocal range for the macho Agamemnon, narcissistic Paris, world-weary Priam, wise Hecuba, etc. O'Hare suggests these people, playing them as variations on his Poet persona and maintaining a single through-line of intention: to expose the horrors of war.

In both versions, director Peterson switches up her staging admirably, moving from slow and tender amorous encounters to fast and furious bloodbaths without grinding gears. Scott Zielinski's exquisite lighting establishes mood and place within Rachel Hauck's bare set. Bassist Brian Ellingsen soulfully plays Mark Bennett's symphonic original music.

As we teeter on the brink of yet another military clash—possibly with Iran or Syria—Homer's grim portrait of the folly of war couldn't be more timely.

Presented by and at New York Theatre Workshop, 79 E. Fourth St., NYC. March 6–April 1. Tue. and Wed., 7 p.m.; Thu. and Fri., 8 p.m.; Sat., 3 and 8 p.m.; Sun., 2 and 7 p.m. (212) 279-4200 or www.ticketcentral.com.