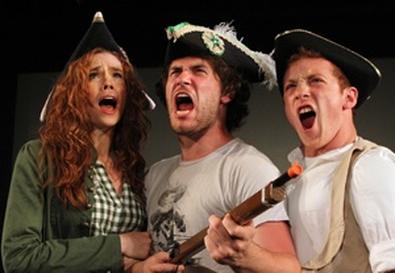 It's impossible to watch "Independents" without thinking about its book writer, Marina Keegan. After her tragic death in May, a few days after her Yale graduation, Keegan gained posthumous recognition when her final column for the Yale Daily News went viral. With "Independents," Keegan and her collaborators, composer Stephen Feigenbaum and lyricist Mark Sonnenblick, bring a relevant and touching work to what will hopefully be a long life.

"We don't have a word for the opposite of loneliness, but if we did, I could say that's what I want in life," Keegan wrote, and that is exactly what her troubled characters—a group of stunted, pot-smoking adolescents—are seeking. They sing a confused 20-something anthem: "If I can't find a way to enjoy myself today, why should I care about tomorrow at all?" Facing mortgage payments on the ship where they live, the ragtag group of unlikely Revolutionary War re-enactors clings to the boat as a haven and struggles to venture on the stormy seas of adulthood for fear of losing the community the ship provides.

Feigenbaum and Sonnenblick's score is catchy and poignant, while Keegan writes excellent character-specific dialogue within a beautifully crafted coming-of-age story. The large cast carries the show's sail well, with Summer Broyhill, Christopher Burke, and Corey Desjardins delivering standout performances. Director Charlie Polinger executes a clear vision for the work.

After viewing this mature and haunting piece, it's clear that the world has lost a tremendous talent. But what Keegan accomplished in her too-short 22 years is more than many can even dream of doing, and her work is sure to live on.

Self-presented as part of the New York International Fringe Festival at Theatre 80, 80 St. Marks Place, NYC. Aug. 11–25. Remaining performances: Sat., Aug. 15, 4 p.m.; Mon., Aug. 20, 4 p.m.; Thu., Aug. 23, 4 p.m.; Sat., Aug. 25, 9:15 p.m. (866) 468-7619 or www.fringenyc.org. Casting by Holly Buczek.