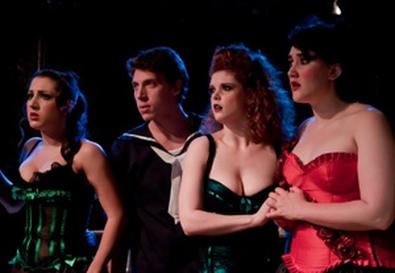 A spunky little musical, "Jack's Back!" is lots more fun and far less disturbing than expected, considering its subject is Jack the Ripper. With lovingly derivative music and lyrics by Tom Herman, and a campy book by Elmer L. Kline (with Leo Cardini and Herman), this world premiere musical uses the notorious tale of the horrific murderer not to explore dark dramatic themes, but to send hugs and kisses to Gilbert & Sullivan, vaudeville, silent-film comedy, and Broadway musical theater conventions. The show has no deeper purpose than to show off the talents of its appealing young cast members.
The star of the story is an endearing Cockney sausage stuffer, Herbert (Casey Shane), who devises wacky schemes to catch the Ripper. Driven not only by a noble desire to save lives, Herbert also harbors elaborate plans for the reward money promised for the capture of the Ripper. With it he will marry his sweetheart, Jenny, move to America to open a sausage factory, and allow his prostitute mother, Martha, to retire from her "job" -- not that she wants to. A terrific dancer, Shane brings the necessary innocence, as well as a host of physical comedy skills, to his portrayal of Herbert. His pratfalls are outstanding, and when he masquerades in drag as a "lady of the evening," the comic confusions he conjures are spot-on.
While there's nothing grim about Lance Olds' suave portrayal of Jack, in keeping with the overall style of the show, his villain is drawn with more melodramatic finesse than authentic terror, and he successfully allures us with impressive juggling and card tricks. Matthew Boyce displays masterful Fosse-esque movement abilities as a Scotland Yard detective, and as Jenny, Julia Udine is perfect. It's hard to decide which is most beautiful, Udine's bright soprano voice, supermodel face, or the refined physicality she brings to her movements. Early in the show, she performs a flawlessly balanced promenade in an adagio dance break with Shane that lets us know her character is securely placed on that pedestal of ideal femininity.
Deftly directed by John Gould Rubin, the musical speeds along with zippy shenanigans so complexly staged that one probably needs a second, or even third, viewing in order to absorb all that is happening. As in any Gilbert & Sullivan-inspired work, the singing ensemble in this production is as great a driving force as any single player. Under the musical direction of Andy Cohen (who also orchestrated the show's two-keyboard arrangements), the group sounds fabulous. But they also dance -- constantly! -- as do the leads, delightfully choreographed by Bronwen Carson. Alexa Erbach stands out for the physical clarity, intense focus, and tremendous expressiveness she brings to her ensemble duties.
The show's weak link is Arley Tapirian, giving a mess of a performance as Martha. Though Sherry Martinez's 19th-century period costumes are otherwise very effective, Tapirian wears her garish get-up sloppily, shouts instead of sings, and invests everything she does with more energy than she can control. Despite the obvious reference in the title of her song "You Can't Teach an Old Dog New Tricks," it took me until the end of the number to realize that the ridiculous moves she was making were supposed to represent a canine. Lois Catanzaro's lighting also needs some adjustment. Watching from the far end of the front row, I was sometimes blinded by a light shining directly in my eyes.
Presented by and at T. Schreiber Studio & Theatre, 151 W. 26th St., NYC. May 12-June 24. Wed.-Fri., 8 p.m.; Sat., 2 and 8 p.m.; Sun., 3 p.m. (212) 352-3101 or www.tschreiber.org.