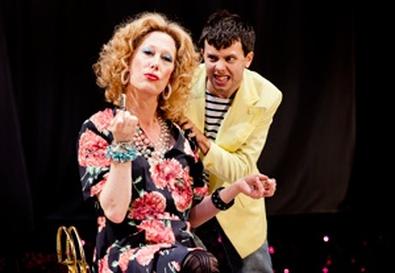 We learn all we need to know about the title character of "Jukebox Jackie: Snatches of Jackie Curtis" when, posed in a spotlight, our hero whips off his sunglasses to reveal—more sunglasses! Jackie Curtis, Andy Warhol star and glam-rock inspiration, did not hide behind his theatrical exterior. Theatricality was, for him, authenticity.
Therefore, bringing Curtis back to the stage in the circular form of the musical revue is only natural (so to speak), as is splitting him into different "selves" that mix his public performances and private diaries. Surrounding him with a set (by Scott Pask) as pink and glittery as Marilyn Monroe's closet and casting Mx. Justin Vivian Bond, cabaret royalty and successor in many ways to Curtis, are also smart choices. "Jukebox Jackie," conceived and directed by Scott Wittman, is a jukebox musical for the downtown crowd, built almost entirely from Curtis' (mostly) original songs, films, plays, and poetry.
With such a promising setup, it's disappointing to watch the show fall flat by depending on its audience's nostalgia for Curtis and his work rather than on empathy for his struggles. We are told about hardships engendered by his identity and his career but never with any suspense. Wittman's diva is well-adjusted, with no hint of the demons that took the real Curtis' life at age 38. The production's Broadway panache exacerbates the problem. With its actors perfectly miked and on pitch, backed by a large and talented band, picking up their cues, and keeping the pace like seasoned professionals, there is no hint of grit or danger in the show's 90 minutes. Its raunchier numbers (including a coke-fueled anthem fiercely performed by Bridget Everett) feel more self-satisfied than provocative.
What remains is an uneven musical peppered with memorable moments. Among them are Everett's solo and the young Cole Escola's lengthy tirade as Curtis' director (Escola steals the show multiple times, in fact). Bond must fight the script to connect with the audience, cheating a wink or a laugh to remind us that v (Bond's preferred gender pronoun) is there. In only a few numbers, most notably "Everyone's Gone to the Moon," do Bond and Curtis meld seamlessly, two generations of vulnerable but venerable crooners. Long before Lady Gaga donned outrageous outfits to sing of self-acceptance, it was Curtis and Bond who were born this way.
Presented by and at La MaMa ETC, 66 E. Fourth St, NYC. May 30–June 10. Wed.–Fri., 8.p.m.; Sat., 7 and 10 p.m.; Sun., 7:30p.m. (212) 475-7710 or www.lamama.org.