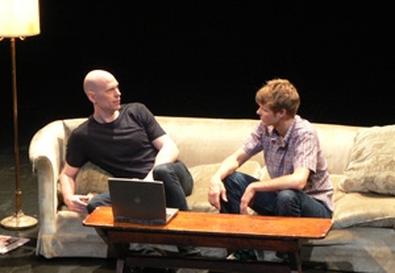 Brandt Johnson's "Just Sex" was first seen as part of 2011's Dream Up Festival—and it shows. Johnson's script is rife with the tell-tale signs of a festival show, from salacious subject matter to an eagerness to include Deep Thoughts but an unwillingness to explore them if doing so requires too much thinking on anyone's part.
Over the course of 70 minutes, married couple William (Johnson) and Katherine (Tasha Lawrence) go from total monogamy—William even suffers from debilitating guilt for accidentally looking at porn—to enjoying an open marriage that introduces 21-year-old Amanda (Meghan Miller) to their lives. What begins as an interesting debate about what constitutes cheating quickly becomes another trip through comic prurience, and whatever stakes were inherent in Johnson's premise are erased in the baleful gaze of his characters' total understanding and commitment to one another.
As the horny couple, Johnson and Lawrence are both expert underplayers who find the comedy without pushing. Lawrence is an unexpected delight as the eager, giddy Katherine, giving a smart, good-time-gal performance that gleefully bypasses the usual jealous-wife stereotypes. Miller's turn as Amanda is all on the surface, as unreal as the pixels on William's computer screen. Director Alex Kilgore appears now and then as William's best friend, Kurt, who works mainly as a fount of exposition explaining the hows and whys of cybersex before becoming a weak punch line by play's end.
That's exactly why "Just Sex" is just okay. Johnson is more interested in earning laughs by placing his characters in outlandish positions (shirtless and blindfolded, acting like a 16-year-old schoolgirl, holding up an O-ring mouth gag) than in how they end up in them. His focus on comedy wreaks hell with the characters: Would Katherine and William really be as wholly understanding as they are with their revelatory choices (he wants young, she wants S&M) in cybersex partners? When William tells Kurt that he and Katherine are opening up their marriage, Kurt at first laughingly assumes that William is indulging in some male dream life. It's hard not to feel the same way about "Just Sex."
Presented by and at Theater for the New City, 155 First Ave., NYC. March 27–April 15. Tue.–Sun., 8 p.m. (212) 868-4444 or www.smarttix.com.