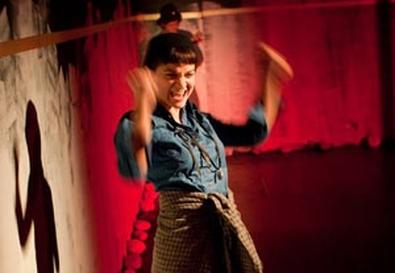 The shadow of the Romanian Communist Party has loomed over the country since its dissolution in 1989, and its destructive legacy continues to haunt the works of playwright Andras Visky. In "Juliet," which premiered in Budapest in 2002 and came here as part of the New York International Fringe Festival in 2007, he made the devastation personal, relating the story of his mother's deportation and imprisonment in a Communist gulag, along with her seven children. Visky was two years old.
"I Killed My Mother," which received its U.S. premiere at Chicago's Theatre Y in a translation by Alisha O'Sullivan, is a fictionalized account, but it retains the rawness and poignancy of a memoir. Visky revisits Romania in the grip of Nicolae Ceausescu, whose ban on abortion has led many women to leave their babies in overflowing hospitals and orphanages. The nightmarish conditions and treatment of the children at these institutions have become legendary. This is where we encounter Bernadette (Melissa Hawkins), whose abandonment by her mother leaves her adrift and hardened until she encounters a friend, Clip (Andrew Hampton Livingston), whose guidance provides her enough confidence to explore her identity and make her way on her own.
Visky wrote "I Killed My Mother" for Hawkins, who also performed in the English premiere of "Juliet." It is a rewarding partnership: Hawkins is extraordinary. Her connection with Visky's work is evident in her complete embodiment of Bernadette's journey through coldness, anger, hope, and finally autonomy. It's an arc that spans an entire adolescence, from a child in the orphanage to a young woman growing into herself and grappling with the idea of freedom from both the state and the burdens of family.
The glue that binds the production, Hawkins has the enviable ability to switch effortlessly between narrative and dialogue; she is both a storyteller and an active participant in the tales. She easily takes on the identities and cadences of the other players in Bernadette's life with the arch of an eyebrow or the hunch of a shoulder. Particularly scalding is her portrayal of Clara, a potential adoptive mother who toys with the child's expectation of family and leaves her burned.
Hawkins' Bernadette tends toward intensity and pointed stares, an attitude matched by Peter Ksander's dramatically harsh lighting and set, which is bordered by depressing bits of concrete blocks and rubble. But it's not a one-dimensional intensity; there's a humanity there just below the surface. Livingston's Clip helps expose that side by planting in Bernadette the idea of an existence beyond her own.
Karin Coonrod's seamless direction highlights the power of this shifting relationship. Although the two characters never leave the stark playing space, they strain against it with an aggressive physicality that moves from violence to gracefulness over the course of the play. Clip begins by stomping and throwing rocks; he ends by dancing across them. Livingston's background is in tap, and as the play continues he surrenders the majority of the stage to the increasingly self-actualized Bernadette. She no longer needs Clip, and he dances in the shadows, displaying how far they have come.
Presented by and at La MaMa ETC, 74A E. Fourth St., NYC. Feb. 12–March 4. Thu.–Sat., 7:30 p.m.; Sun., 2:30 p.m. (212) 475-7710 or www.lamama.org.