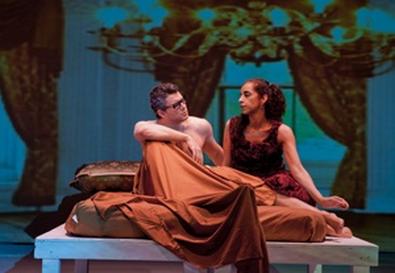 Spanish playwright Jaime Salom has had the neat idea to pair and parallel the lives of Medea, the evil princess of Greek mythology, and Maria Callas, the very real, fiery, and legendary opera star of the mid-20th century. Both women defied parents, sought forms of power, fell passionately in love with the wrong man, were betrayed by him, and went to extremes to wreak their revenge. To call them drama queens would be to understate the case. Most important, Callas rescued Luigi Cherubini's long-dormant opera about Medea, initially for her teenage audition at an Athens music school and later, spectacularly, at Epidaurus, the site of the ancient Greek outdoor theater still in use. The singer made Medea a signature role.
In 95 minutes Salom conveys the highs and lows of both women's lives and loves (the equally mythic Jason of golden fleece fame and Aristotle Onassis), ultimately melding their personae quite convincingly. Perhaps because the ladies were humorless, Salom has written some of the supporting characters to be broadly comic, and the performers have carried out his wishes successfully. The whole production, directed with panache and passion by Angel Gil Orrios, makes a worthy world premiere for "La Callas & Medea." Seven actors, most in double or triple roles, deliver the show in Spanish and English versions, as is the charter of the Queens-based Thalia Spanish Theatre. (G.J. Racz did the English translation.)
Medea and Maria at first meet only briefly, on a cheesy 1950s chat show, where they share a short confrontation establishing that each despises the other. Dramatically, the two women then go their separate but parallel ways in alternate scenes for most of the rest of the play. Kathy Tejada as Callas is intensely persuasive, and Soledad López as Medea is her equal in believability. Lopez also had a hand in creating the striking costumes from both periods, along with Armando Moreno and Fernando Mesa. Raúl Sigmund Juliá splendidly plays both the younger Jason and the older Aristotle Onassis, a double casting that further underlines the author's thesis. Basilica Bliachas also enhances it by nicely portraying the young Medea and Maria. Yvette Quintero offers the most humorous moments, as Maria's mother and Medea's nurse. In lieu of scenery, Fabricio Saquicela has created effective still and moving projections, some depicting the real Callas singing.
Presented by and at Thalia Spanish Theatre, 41-17 Greenpoint Ave., Queens, N.Y. May 25–June 24. English: Fri., 8 p.m., and Sat., 3 p.m.; Spanish: Sat., 8 p.m., and Sun., 4 p.m. (718) 729-3880 or www.thaliatheatre.org.