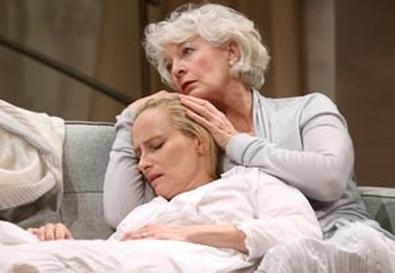 Produced briefly on Broadway in 1980, Edward Albee's "The Lady From Dubuque" had its champions but was generally dismissed, partly out of the conventional wisdom that Albee was a washed-up drunk. I read it and found it intriguing. But as with most plays, you can't gauge the full effect on the page. Now, a mere 32 years later, Signature Theatre has had the nerve to stage it. And you know what? The conventional wisdom was wrong. This blistering yet deeply humane metaphysical drama about death ranks with Albee's finest work.
Act 1 consists of the social gathering from hell. Two couples—the married Edgar and Lucinda and the cohabiting Fred and Carol—have assembled at Sam and Jo's upscale suburban house for an evening of games and drinking. Everyone, however, is avoiding the elephant on the coffee table: Jo is dying, painfully and slowly, of cancer, as her hubby watches helplessly. Well, everyone but Jo, who regularly lobs her condition at the group like a grenade. Nobody seems to like anybody else. Jo leads the orgy of humiliation and contempt, and the evening ends in histrionics and recriminations on the front lawn. Albee is painting a carefully heightened portrait of the grimy pettiness to which human beings can descend, and it's an ugly sight. Then, just after Sam has aided Jo, screaming in agony, up set designer John Arnone's marvelous curved staircase to bed, an elegant older woman and her companion, an African-American gentleman, enter. She asks the audience if she is in time, hears another scream from Jo, and answers her own question in the affirmative as the lights dim.
Act 2 begins the next morning as Sam comes downstairs to discover his uninvited guests. The woman, named Elizabeth, claims to be Jo's mother, from Dubuque, though Jo says that her mother is a recluse living in New Jersey. As Sam's agitation grows, Elizabeth calmly insists that she is there to help. The two couples from Act 1 pop in but offer Sam no support. Then Jo comes haltingly down the stairs and heads straight into Elizabeth's arms as Sam howls "No!" It seems that the lady from Dubuque is there to shepherd Jo gently to her death, and she will not be thwarted.
Under David Esbjornson's textured direction, the fearless cast tears into the play. Laila Robins is a commanding Jo, by turns funny, vicious, angry, loving, anguished, and finally sorely spent. Michael Hayden is a boyish Sam, treading anxiously on pins and needles in Act 1, then disintegrating to visceral effect in Act 2. He is especially good at delineating Sam's heartbreaking denial and all-too-human selfishness. As Edgar and Lucinda, Thomas Jay Ryan and Catherine Curtin are spot-on squares, increasingly annoying in their niceness, until they hit their limit and self-righteously explode. C.J. Wilson's Fred is the epitome of testosterone-fueled misogyny, gleefully common and palpably sexual. Carol, Fred's latest bimbo, really isn't one. Tricia Paoluccio smartly stresses her outsider status, giving Carol a brisk confidence and caustic demeanor that mask an inner uncertainty.
Albee employs a theme-and-variations structure in "Lady," and Jane Alexander and Peter Francis James play the variations with consummate skill. As Elizabeth, Alexander is gracious and composed, with an innate hauteur and twinkling wit, silkily landing Albee's welcome Act 2 bursts of ironic humor. Quietly insistent, her Elizabeth is not to be trifled with, exhibiting a core of steely compassion. James is a stiletto-sharp Oscar, gliding implacably about as he keeps Elizabeth's back and very funny in lightning lapses into stereotyped black dialect. The embodiment of dignity, James makes Oscar's ascent to the bedroom as he carries Jo to her death almost unbearably moving.
Arnone's tasteful living room, all grays and light wood, lit unobtrusively by David Lander, is a soothing environment for the grim truths being delivered. As a young man, I watched my mother endure a long, slow death from the debilitations of multiple sclerosis. She would have welcomed an Elizabeth. Albee gets all the brutality, messy emotions, and infuriating banality exactly right. "The Lady From Dubuque" is a sure and stunning blow to the heart.
Presented by and at Signature Theatre, 408 W. 42nd St., NYC. March 5–April 15. Tue.–Fri., 7:30 p.m.; Sat., 8 p.m.; Wed., Sat., and Sun., 2 p.m. (No performance Wed., March 7, 2 p.m.; additional performance Sun., March 11, 7:30 p.m.) (212) 244-7529 or www.signaturetheatre.org. Casting by Telsey + Company.