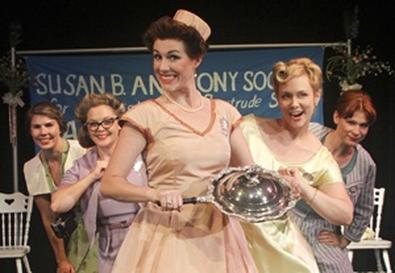 Innuendo and suppressed sexual feelings are the order of the day at the annual quiche breakfast for the Susan B. Anthony Society for the Sisters of Gertrude Stein. The audience is welcomed into its meeting, each receiving at the door a tag labeled with a name, such as Frances or Marjorie. In 1956, during the age of McCarthyism, these "widows" gather every year to compete for the best quiche, but when communists and their culture threaten the women's country and lifestyle, how will they fight back?

Playwrights Evan Linder and Andrew Hobgood—aided by contributions from the show's original cast: Mary Hollis Inboden, Meg Johns, Thea Lux, Beth Stelling, and Maari Suorsa—strike an interesting balance between period political drama and laugh-out-loud exaggerated scenarios that works rather well. All of the allegory about eggs, quiche, and meat is just the tip of the metaphor. Kevin McClintock's set design is fitting for the Fringe, while Nathan Rohrer's costumes are perfectly character-specific.

The five actors have excellent timing together. Caitlin Chuckta is hilarious as Ginny, the Manchester-born sister, whose attempts for attention get thwarted by the sisterhood's leader, Lulie, played in an over-the-top fashion by Rachel Farmer. (The scene in which Ginny eats the quiche steals the show.) Johns is perky and bright-eyed as Wren Robin, while Lux plays a spot-on stereotype as Vern. Suorsa rounds out the funny ladies as Dale.

The show is slight, but it's perfect fare for the Fringe. If you're looking for 75-minutes of somewhat thought-provoking laughs, "5 Lesbians" is the thing for you.

Presented by the New Colony and Arthur Pinckard as part of the 2012 International Fringe Festival at the Living Theatre, 21 Clinton St., NYC. Aug. 10–17. Remaining performances: Sat., Aug. 11, 8 p.m.; Wed., Aug. 15, 10:30 p.m.; Thu. Aug. 16, 4 p.m.; Fri., Aug. 17, 7:30 p.m. (866) 468-7619 or www.fringenyc.org.