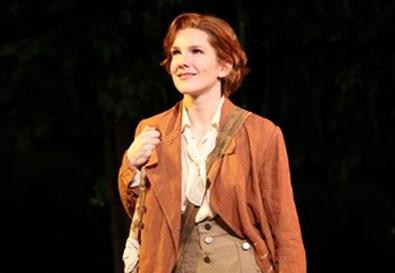 "As You Like It" is such a crowd pleaser that it is almost impossible to screw up. The charm of Orlando and Rosalind's merry gender-bending romp through the Arden forest is so joyously rendered by the Bard that it requires no modern gimmicks or concepts to win over theatergoers. So while the reliable Daniel Sullivan's new production for the 50th anniversary season of the Public Theater in Central Park is not as innovative as Michael Boyd's staging for the Royal Shakespeare Company last summer, nor as moving and passionate as Sam Mendes' Bridge Project version, it is a robust and jolly midsummer fling guaranteed to make you forget the oppressive heat wave.
The nonpaying audience immediately knows what kind of production it is getting as it enters the Delacorte and is greeted by a backwoods combo, outfitted by costume designer Jane Greenwood in 1880s duds and playing twangy country-western tunes by Steve Martin (yes, that Steve Martin). It also takes in set designer John Lee Beatty's massive environment suggesting a fort on the outskirts of civilization. Sullivan has set the play in an American Southwest where the wild forces of nature are lurking just beyond the leafy bushes of Beatty's glade. When Rosalind and her friends flee the strictures of her uncle's court, the fort splits apart and we're in a giddy world exemplified by Martin's foot-stomping score. The inhabitants are brought to lusty life by a boisterous band of players who deliver zestful work. In a final wedding dance exuberantly choreographed by Mimi Lieber, they execute their simple clog-like steps like real country folk celebrating the joy of love and life at a rustic gathering, rather than actors delivering a precisely rehearsed production number.
At the conclusion of that dance, the production's shining Rosalind, Lily Rabe, signals to the crowd that she must catch her breath before she can deliver the epilogue. That small gesture is just of one of dozens that lend a crackling verisimilitude to her exciting performance. Rabe, quickly establishing herself as one of New York's outstanding stage actors, throws her whole body into Rosalind's passion for Orlando. Her face conducts a silent dialogue with him when her potential lover is tongue-tied, and her arms and legs swing and vibrate in gentle mockery as the jester Touchstone parodies the love poems Orlando has plastered over the Arden trees. It gives new meaning to the term "full-bodied."
The rest of the company is equally committed. David Furr captures the dual qualities of Orlando's native nobility and noble simplicity, and, in a double role, Andre Braugher embodies the bitter rage of Duke Frederick and the tenderness of his banished brother. Oliver Platt makes for a sardonic and jolly Touchstone, and Donna Lynne Champlin is a bawdy delight as his loose-hipped paramour Audrey. Stephen Spinella skillfully mines the melancholia of the philosopher Jaques, and Renee Elise Goldsberry keeps Celia, Rosalind's cousin, from being relegated to ignored "best-friend" status.
The real surprise of the evening is Will Rogers. Resembling a young Buddy Ebsen, Rogers is all elbows and knees as woebegone shepherd Silvius, awkwardly trailing after his sneering object of affection Phoebe (a sharp Susannah Flood) and endowing each sigh and stumble with delightfully doleful despair. It's a small gem of a performance in a glittering "As You Like It."
Presented by the Public Theater at the Delacorte Theater, Central Park (enter at Fifth Avenue and 79th Street or Central Park West and 81st Street), NYC. June 21–30. Schedule varies. (212) 967-7555 or www.publictheater.org.Casting by Jordan Thaler and Heidi Griffiths.