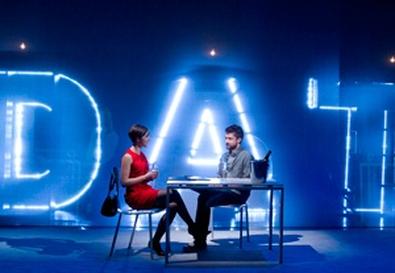 If director Trip Cullman is aiming for a meta-commentary on the vapidity expressed by Paul Weitz's new play "Lonely, I'm Not," he has achieved success. Neon signs and projections (designed by Aaron Rhyne) flood Mark Wendland's largely bare set, and it is as if these words are shouting the meaning that Weitz's characters so desperately crave. Cullman has appropriately crafted a veritable playground for psychobabble, and his purposefully frenetic direction seems to be commenting on the fact that the script conveys little meaning.

Of course, maybe that's Weitz's point. To remark upon the loneliness of urban life, he has written a play that's just as lacking. But it doesn't add up. As soon as Porter and Heather go on their first date, during which actors Topher Grace and Olivia Thirlby possess a poignant chemistry, it's clear that their connection doesn't make sense. Porter, a Harvard graduate and a former top banking analyst, has been a recluse for the past four years after suffering a nervous breakdown. His initial efforts to re-enter society include bribing a barista to sell him a latte before the café opens, assumedly so he won't have to interact with people, and bombing in an interview for a position as a second-grade teacher. How he would have the emotional and social capacity to go on a successful date is beyond me.

It could help that Heather is blind, so Porter doesn't have to worry about her judging him for his appearance or nervous tics. However, the relevance of her disability is more metaphorical—not to mention an excuse to stage many comic moments. Heather is an overambitious young professional who craves independence in an almost addictive manner and refuses to connect with people for fear of being pitied. However, she's awfully one-dimensional. Indeed, writing women seems to be a challenge for Weitz. In his last Second Stage production, "Trust," his central female character struggled in a clichéd manner with men and abuse; Heather similarly struggles with corporate discrimination, which, of course, turns her into an emotionless "robot."

Known for "That 70's Show," Grace, who is making his professional stage debut, unfortunately falls victim to a trap many sitcom actors face: He can't escape his television alter ego. Although incredibly endearing, Grace's Porter is hardly believable as a neurotic sufferer of mental illness. Thirlby plays Heather's disability well, and her deadpan delivery of Weitz's trite lines suits the material. The supporting cast is stellar (Mark Blum, Lisa Emery, Christopher Jackson, and Maureen Sebastian), each morphing among as many as three roles.

I was really looking forward to "Lonely, I'm Not," and though I'm disappointed by the outcome, the topic is not an easy one to broach. I only wish that Weitz hadn't used the same cheap jokes his characters mock and that his play had more substance than its people.

Presented by and at Second Stage Theatre, 305 W. 43rd St., NYC. May 7–June 3. Tue., 7 p.m.; Wed.–Sat., 8 p.m.; Wed. and Sat., 2 p.m.; Sun., 3 p.m. (No performance Tue., May 8. Wed.–Fri., May 9–11, evening performances are at 7 p.m.) (212) 246-4422 or www.2st.com. Casting by MelCap Casting.