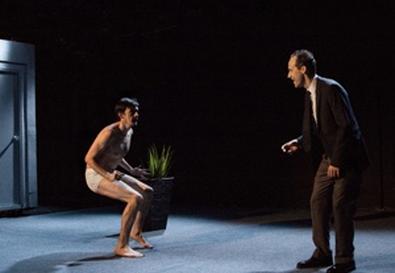 More than halfway through the enigmatic "Luther," the second entry in Clubbed Thumb's Summerworks 2012 festival, I thought I finally discovered the solution to the puzzle that is Ethan Lipton's play: "Luther's a dog!" I said to myself. Well, maybe not.
The play begins with promise. Luther (Bobby Moreno) is wrapped in a blanket and sleeping on a couch as Walter (Gibson Frazier) and Marjorie (Kelly Mares) discuss the vacation they are about to take and their need to find somebody to care for him while they are away.
So who is Luther? When we finally get a look at him, we see that he is a grown man, scruffy and oddly childlike. A veteran who was damaged in some way by the war in which he served, he was apparently adopted by Walter and Marjorie.
After the vacation discussion, the two decide with some reluctance to take Luther along with them to an office party, which takes up the bulk of the 80-minute play. It is here that I suspected a canine metaphor because—spoiler alert—Luther winds up biting the face of a man at the party, and a police captain tells Walter and Marjorie that if he is found guilty, he will have to be "put down." But how can a dog be a war veteran? Is the playwright saying that war veterans are treated like dogs?
Instead of a trial, all agree to engage in a kind of encounter session, presided over by a social worker named Fran Lebowitz, who is played by a hand puppet. (The puppeteer is Crystal Finn, who also for some reason enacts two puppet characters at the party.) The scene, like many moments in "Luther," reads like a subtle send-up of contemporary urban middle-class mores. These moments would be a lot funnier if the audience were not so disoriented. Lipton and director Ken Rus Schmoll need to be more clear and decisive about the world they have created.
Moreno gives the strongest performance, a charismatic actor even when playing an inarticulate, um, being. But a duo with better comic timing—say a young version of Jerry Stiller and Anne Meara—might have made more out of the couple's squabbles. A high point should be the discussion of their plan to economize: eliminating takeout, buying wine by the case, and, at Marjorie's suggestion, selling off their theater tickets.
"That would be great," Walter replies. "Plus, that way we don't have to go to the theater."
Presented by Clubbed Thumb, in association with Gotham Stage Company, as part of Summerworks 2012 at Here Arts Center, 145 Sixth Ave., NYC. June 11–17. Mon., Wed.–Sun., 8:30 p.m. (212) 352-3101, (866) 811-4111, or www.here.org.