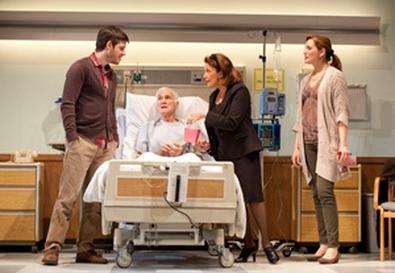 In a Broadway season full of transfers from Off-Broadway, Nicky Silver's "The Lyons" comes charging onto the Great White Way with a savage roar that is simultaneously a scream of pain and a shout of dark laughter. The script has been trimmed somewhat, and the performances and staging have been pitched slightly broader to accommodate the larger house after a successful run at the Vineyard Theatre, but this merciless comedy of a dysfunctional family dealing with mortality and regret remains an intimate and scary examination of how we cope with loneliness and disappointment. Linda Lavin continues to give a master class in comic timing.
We open in Allen Moyer's hospital-room set—not as claustrophobic as it was Off-Broadway but still resembling an antiseptic cage—where Rita Lyons, the narcissistic matriarch of the clawing titular clan, is leafing through an interior design magazine as her husband and sparring partner, Ben (the equally expert Dick Latessa), is dying of cancer. Though Ben is about to expire at any moment, Rita's biggest concern is redoing the living room. They are soon joined by their two miserable children—gay son Curtis (Michael Esper), whose boyfriends never attend family gatherings, and train-wreck daughter Lisa (Kate Jennings Grant), recovering from alcoholism and a failed marriage.
As he has done in previous works such as "Pterodactyls," "Fit to Be Tied," and "The Maiden's Prayer," Silver presents a set of loony relatives through a skewed comic lens that is at once distortedly funny and heart-rendingly empathic. Gales of hysterical laughter at the outrageously bad behavior are followed by abrupt silence as the anger, jealousy, and miscommunication that cause them are revealed. Silver has tightened his script by removing an extraneous monologue for Lisa, and the result is a more incisive portrait of this deadly Lyons' den.
Director Mark Brokaw balances the guffaws of merriment with the gasps of sympathy, knowing just when to extend a comic piece of business and when to cut it short. He is particularly aided by veteran performers Lavin and Latessa. Lavin is an expert at punctuating a brilliantly funny line with gestures and expressions, and she's not just doing it to get an extra laugh. Each grimace or shrug is indicative of the core of Rita's character: her self-centeredness. Watch Lavin's eyes as Rita urges her kids to think of something memorable to say to their dad before he pops off. Lavin's very pupils seem to be saying, "You might want to hurry it up, dear." She also adds layers of complicated emotion to the lady's connection with her husband and children. With a sidelong glance or a tear-choked utterance, Lavin demonstrates that Rita has both love and hate for her family.
Similarly, Ben could easily have been played as a macho monster, furious at his son's homosexuality. Latessa gets that, but he also endows this rageaholic with a soft center, displayed when Ben reminisces about his close relationship with his own father. Esper's take on the needy son has grown, with more intense desperation seeping out when Curtis makes a pathetic attempt to hook up with a handsome real estate agent (Gregory Wooddell, who makes the most of his brief role). Though her big solo has been cut, Grant offers a multifaceted Lisa, going beyond the obvious choice of whiny loser and endowing her with flashes of hard humor and sympathetic tenderness. Brenda Pressley rounds out this spot-on ensemble with an unflinching limning of a no-nonsense nurse. If you missed "The Lyons" downtown, you should definitely make the trip to the Cort Theatre.
Presented by Kathleen K. Johnson at the Cort Theatre, 138 W. 48th St., NYC. Opened April 23 for an open run. Tue. and Thu., 7 p.m.; Wed., Fri., and Sat., 8 p.m.; Wed. and Sat., 2 p.m.; Sun., 3 p.m. (212) 239-6200, (800) 432-7250, or www.telecharge.com. Casting by Henry Russell Bergstein.