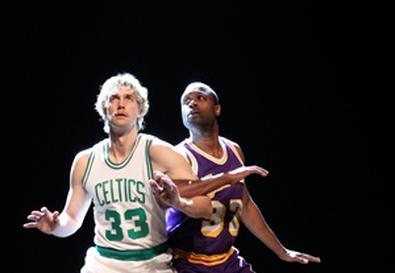 March Madness may be over, but Broadway is attempting to jump on the craze with "Magic/Bird," based on the true story of the rivalry between basketball legends Earvin "Magic" Johnson and Larry Bird. However, sports and theater present inherently different kinds of drama. Both are physical feats in front of an audience, but the comparison ends there. One succeeds on competitive energy, while the other finds its stride in intellectual craft. Though director Thomas Kail tries to re-create the adrenaline rush of a basketball game onstage, his trite devices, coupled with Eric Simonson's flat script, can't deliver the same energy as a Final Four playoff.
A sports-broadcaster voiceover, aided by a tacky roaring-crowd effect, announces each cast member and his or her roles at the top of the show, after which the actors take their places on the benches, which circle David Korins' gymnasium set. Basketball is about strategy, and Simonson, who also wrote the more successful 2010 Broadway football bio-play "Lombardi," has methodically structured the piece. Dramatic form is one thing he can rely on, particularly as the audience, which seemed to contain a large population of sports fans, is likely to know the story's outcome.
Simonson opens with the famous press conference at which Johnson simultaneously announced his HIV diagnosis and retirement from the Los Angeles Lakers. Then we jump back to Johnson's and Bird's college days, at Michigan State and Indiana State respectively, and progress through their NBA rivalry, from rookie year to retirement. The script unfolds almost too perfectly as the star athletes continually try to one-up each other, with the playwright unable to infuse the emotional depth the story deserves.
The most memorable scene takes place in a bar, where a Lakers fan and a Celtics fan disagree over their team allegiances, a simple conflict that provides greater dramatic tension than any other moment. The only sports-related action, aside from some hoop shooting, comes in footage of the real-life players. This choice only draws comparisons between the actors and the actual men. While Kevin Daniels and Tug Coker are fine impersonators, their portrayals struggle to extend beyond that, and the video replays merely affirm their shortcomings. Coker relies on Bird's deadpan humor and impersonal nature as a crutch, while Daniels' gregarious Johnson feels false in the more dramatic scenes.
The supporting cast—Deirdre O'Connell, Peter Scolari, Francois Battiste, and Robert Manning Jr.—shows impressive range, filling out a series of one-note characters such as sports reporters, bartenders, parents, fans, and teammates. Korins' set also incorporates sideline locker rooms for onstage changes of Paul Tazewell's generic ensembles.
Ultimately, the concept of theater being like basketball limits the show's effect. Watching actors dressed as basketball players deliver monologues is not the same as watching a game. It's just not.

Presented by Fran Kirmser, Tony Ponturo, W. Scott McGraw, John Mara Jr., Tamara Tunie/Jeffrey Donovan, and Friends of Magic Bird, in association with National Basketball Association, at the Longacre Theatre, 220 W. 48th St., NYC. Opened April 11 for an open run. Tue., 7 p.m.; Wed.–Sat., 8 p.m.; Wed. and Sat., 2 p.m.; Sun., 3 p.m. (212) 239-6200, (800) 432-7250, or www.telecharge.com. Casting by Telsey + Company.