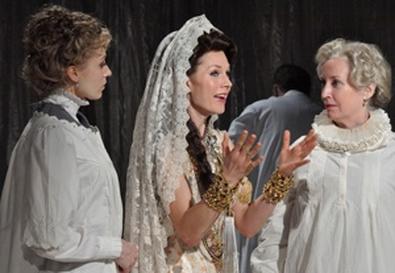 George Bernard Shaw's 1903 masterpiece "Man and Superman" is rarely performed in its entirety. This four-act comedy and philosophical debate encompasses nothing less than the eternal battle between the sexes and the role of a universal "life force" in human evolution.

The initial plot centers on the efforts of the voracious coquette Ann Whitefield to ensnare radical reformer and confirmed bachelor Jack Tanner in the bonds of what Jack considers to be not-so-holy matrimony. To escape Ann's clutches, Jack flees from fashionable London drawing rooms, traversing the Sierra Mountains and eventually confronting his pursuer in a Granada villa. A dream sequence set in hell in the third act, which is usually cut, has Jack, recast as Don Juan, arguing with an amiable devil over man's nature and his destiny.

Intertwined with the main story is the union of the eminently practical Violet Robinson and the romantic American Hector Malone, whose Irish father is standing in the way of their alliance for social reasons, though not the ones you might expect. Along the way Shaw drops numerous quotable witticisms on a broad range of topics, including class, romance, government, public morals, and especially marriage.

The Irish Repertory Theatre has joined with Gingold Theatrical Group, which mounts staged readings of Shaw's voluminous canon, to present a streamlined version of "Man" that retains much of the playwright's legendary wit. However, director David Staller plays up the comic aspects without delving into the deeper implications of Shaw's complex theories. Ann's pursuit of Jack ends with laughter and happiness rather than Jack reluctantly succumbing to his fate and acknowledging that he is in the grip of a power greater than himself: the "life force," which Shaw calls the engine that drives the universe and the human race to create a superman. It's a matter of taste and interpretation, but the subtext could have been richer.

Still, Staller delivers a jolly good time. He paces the proceedings at a speedy clip and has edited the text down to a manageable length of a little less than three hours, including the "Don Juan in Hell" segment. He has also cleverly solved several of the play's more elaborate demands by simplifying them, with the aid of designers James Noone (set) and Kirk Bookman (lighting). A writing desk becomes an automobile, a mountain range is suggested by a shift of lighting, and a set of curtains creates an otherworldly afterlife. I could, however, have done without the narrated stage directions and quotes from the playwright's work delivered by members of the company.

The cast gets considerable comic mileage out of Shaw's sharp dialogue and heady notions. Max Gordon Moore conveys Jack's passion for social justice and progressive morality, but he particularly shines as the idealistic Don Juan, striving to convince the devil (a razor-keen Jonathan Hammond) that man is not merely a destroyer. Janie Brookshire amusingly hides Ann's animalistic, grasping nature under a frilly feminine demeanor. Her Ann is both beautiful swan and dangerous hawk. As the conventional Roebuck Ramsden, Ann's elderly adviser, the reliable Brian Murray expertly contorts his features into shocked reactions to Jack's more advanced proclamations.

Margaret Loesser Robinson is a steely Violet, and Zachary Spicer is a square-jawed Hector. Paul O'Brien strikes flinty sparks as Hector's blustering but ultimately fair-minded dad. Laurie Kennedy gets quite a lot out of a relatively small role as Ann's mother, as do Brian Sgambati as a cockney chauffeur and Will Bradley as Octavius, Ann's rejected suitor.

This is an entertaining and well-staged Shavian production, but I would have preferred a little more emphasis on the ideas and a little less on the comedy.

Presented by Irish Repertory Theatre and Gingold Theatrical Group at Irish Repertory Theatre, 132 W. 22nd St., NYC. May 6–July 1. Wed., Fri., and Sat., 8 p.m.; Thu., 7 p.m.; Wed., Sat., and Sun., 3 p.m. (212) 352-3101, (866) 811-4111, (212) 727-2737, www.theatermania.com, or www.irishrep.org. Casting by Deborah Brown.