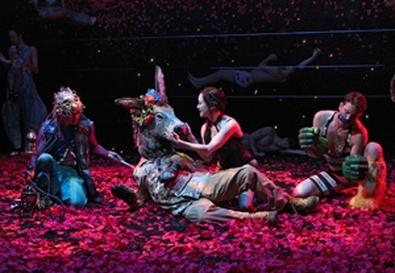 There's plenty of gorgeous young flesh—male and female—on display in Tony Speciale's hyperkinetic production of "A Midsummer Night's Dream," at Classic Stage Company, but it's the dramatic power of some older veterans that holds our attention. For the wrangling quartet of lovers whose romp in the Athenian wood provides the engine for Shakespeare's delightful comedy, Speciale has cast four attractive and talented performers: film star Christina Ricci, as Hermia; Halley Wegryn Gross, who has a raft of impressive Off-Broadway credits, as Helena; and Jordan Dean and Nick Gehlfuss, a hunky pair of look-alike redheads, as Demetrius and Lysander, at first rivals for Hermia and then, after falling victim to a magical spell, contenders for Helena's hand. All of these actors have spark and look great in their underwear, as Speciale has directed them to be for most of the play, but they fail to make an emotional investment in their characters. As a result, when Speciale has them stripping down, running through Mark Wendland's lovely forest set, or tussling with each other, there's no personal stake. We get slapstick tomfoolery rather than comedy based on character.
This deficiency is exemplified in one of the many extended sequences Speciale has endowed with a thousand comic bells and whistles, none of which register deeply. The four young people are ripping each other's clothes off as a mistakenly applied love potion does its work. The fairy king Oberon (Anthony Heald) and his henchman Puck (Taylor Mac), both invisible to the mortals, are watching from beach chairs, munching popcorn and sipping soda as if they were at a movie. Heald and Mac are so fascinating and committed in their actions that I was more interested in watching them watch than in the frantic carryings-on of the mismatched lovers, despite the beauteous nearly nude bodies of the latter.
The older character actors steal the spotlight. Heald, Mac, Bebe Neuwirth, Steven Skybell, and David Greenspan offer shadings and complexities that transcend Speciale's high-concept production, which piles on the gimmicks. The fairies and sprites of Oberon's ethereal court are all circus performers, and Speciale has Puck change Andrea Lauer's outlandish costumes so many times that we don't recognize him from scene to scene. Fortunately, the veterans in the cast keep the proceedings grounded.
Absent from the New York theater since 1996, Heald makes a triumphant return as an elder punk Oberon, sort of a pixyish Dennis Hopper. This fairy monarch is dangerous and sexy, a fit match for Neuwirth's sensuous and leather-clad Titania. As in most productions, they double as odd-couple Theseus and Hippolyta, the rulers of Athens. Skybell is a riotously vain and buffoonish Bottom, full of self-importance at the opportunity to play Pyramus before Theseus. Greenspan enchants as the shy Flute, who initially blanches at the idea of playing the female Thisbe to Bottom's Pyramus. This inventive performer, who has often crossed the gender line in his own plays and monologues, finds the feminine tenderness in Flute's nature and lets it out with compassion and grace. Mac, another playwright-actor, is given too much shtick by Speciale. He's asked to switch accents as often as his costumes, yet he gives the spirit a certain devilish bounce and adds a wistful sorrow to his second role, the usually raging Egeus, Hermia's dictatorial father.
At one point, after Puck has strenuously warbled a fairy tune, Mac ad-libs, "You can applaud. It was quite an effort." You shouldn't have to beg for an audience response or try to improve on Shakespeare. Sadly, Speciale does both.
Presented by and at Classic Stage Company, 136 E. 13th St., NYC. April 29–May 20. Tue., 7 p.m.; Wed.–Sat., 8 p.m.; Wed., Sat., and Sun., 3 p.m. (212) 352-2101, (866) 811-4111, www.theatermania.com, or www.classicstage.org. Casting by Calleri Casting.