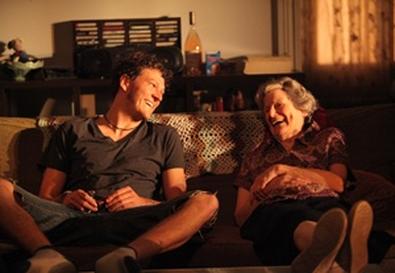 One of the things about my job over which I fret is that I get only one shot at assessing a production. I know how shows can vary from night to night, affected by everything from an actor's bad day to a show-me audience to the cumulative effect of regularly playing the piece. It can be a challenge separating the writing from its realization.
When I saw Amy Herzog's "4000 Miles"
last June at the Duke on 42nd Street, while I found much to praise, I had my caveats. I expected to have them again at Lincoln Center Theater's Mitzi E. Newhouse Theater, where the play has been remounted with its original cast and director intact. Though Herzog has hardly changed a word (apparently just a few tiny tweaks), the flaws I found then were entirely absent. I don't know whether it's due to the mercurial nature of theatrical alchemy or if I just got it wrong. In any event, "4000 Miles" is a quiet triumph.
The central tale is that of 21-year-old Leo's journey into manhood, which takes place under the watchful eye of his 91-year-old, card-carrying-Communist grandmother, Vera, in her Greenwich Village apartment over the course of several weeks. Leo has shown up there in the wee hours of the morning after completing a transatlantic bike ride on which his best friend, Micah, was killed in a terrible accident. The self-proclaimed hippie is estranged from his conventionally middle-class mother back in St. Paul, Minn., and has yet to face the fact that his girlfriend, Bec, now attending college in Manhattan, has matured faster than he has and wants out of their relationship. As he freeloads off Vera while hiding from Mom and pursuing Bec, Leo has a lot on his plate as he struggles to find himself.
Gabriel Ebert and Mary Louise Wilson were top-notch as Leo and Vera the first time, and they've only gotten better since. So much goes unspoken in their relationship, and Ebert and Wilson expertly convey reams of subtext with subtlety and depth. Ebert's Leo bursts at the seams with youthful sensitivity and idealism, while Wilson's finely shaded work never sentimentalizes old age, nor does it shy from Vera's shortcomings. Previously, I thought Zoë Winters was too angry as Bec in her first scene, but Winters found just the right level this time around and was once again splendid during Bec's surprise reappearance, when she finally lets go for good. As Amanda, a ditzy girl whom Leo brings back to the apartment for a one-night stand, Greta Lee is a freewheeling delight and delivers Amanda's beautifully observed parting shot with a wealth of feeling. I criticized this scene, saying that it belonged to another play, but on that score I was most assuredly wrong, as I was about the running device involving Vera's cross-the-hall neighbor, an aging former actor. The two women call each other daily to make sure that neither one has dropped dead without anyone knowing it. The bit not only provides some welcome humor but leads to a touching final scene that gently underscores Herzog's theme of what constitutes community while ending the play on an elegant grace note.
Director Daniel Aukin has successfully transferred the excellent detailed and atmospheric physical production—set by Lauren Helpern, costumes by Kaye Voyce, lighting by Japhy Weidman, original music and sound by Ryan Rumery—to the Newhouse's larger thrust space, causing the staging to feel more sculptural. Oddly, having a bit more distance on the action seems to enhance intimacy.
"4000 Miles" is something of a companion piece to Herzog's ambitious drama "
After the Revolution
," which I greatly admired at Playwrights Horizons in 2010, as the plays share the character of Vera. Her program bio says that she has two new ones coming up: "Belleville," at New York Theatre Workshop, and "The Great God Pan," at Playwrights. With or without Vera, I can't wait.
Presented by Lincoln Center Theater at the Mitzi E. Newhouse Theater, 150 W. 65th St., NYC. April 2–June 17. Tue.–Sat., 8 p.m.; Wed. and Sat., 2 p.m.; Sun., 3 p.m. (212) 239-6200, (800) 432-7250, www.telecharge.com, or www.lct.org. Casting by Daniel Swee.