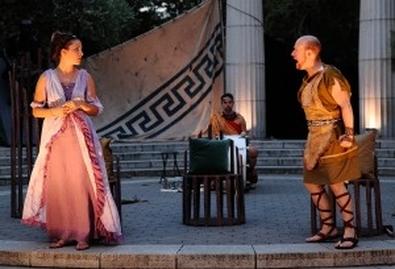 Belief and the divine need for it are the foundation of "The Minervae," an imaginative, vigorously intellectual play by Steve Bost that ponders the fate of the Greco-Roman gods after the Roman Empire converted to Christianity. Don't expect infamously hands-on deities like Apollo, Venus, and their ilk to allow themselves to be ousted by some soft-spoken carpenter from Nazareth.
The anachronism of staging "The Minervae" in Athens Square Park amid the cacophony of modern-day Astoria proves a nice fit. Director Steve Kaliski's resourceful staging revels in these obsolete demigods fighting tooth and nail to re-establish a foothold in this brave new Rome, even if it means that they must introduce a few things to humans long before their time. Take Minerva, for example, who returns after 10 years to present her mortal lover with the gift of the knowledge that the world is round—centuries ahead of schedule.
But in the intervening years the empire has embraced the hip new religion Christianity and made worship of the Olympian gods illegal. Minerva, played with integrity and crusading fury by Rachel McPhee, nonetheless defies the gods' edict of noninterference and heads down to earth to unconvert some Christians. On Olympus, a sordid love triangle among Mars, Venus, and the benevolent protector god Vulcan has reached critical mass. Vulcan, played with somber dignity by Rob Benson, has invented a new weapon (no spoilers, but again way in advance) to protect the Romans from the barbarians at their gates.
The exceptional Jeremiah Maestas supervises all the gods, goddesses, and humans as the Machiavellian sun god Apollo, investing him with crackling humor and, well, apollonian sharpness throughout. Gabriel Weissman, Katie Lear, and Michael Swartz play the human characters, whose faiths and fates hang in the balance, with zeal. As recent converts, they appreciate the compassion and fewer demands of their new religion but are frustrated by the lack of real-world results such as they experienced with the Olympian gods, a weakness viciously exploited by the pugnacious Mars and the promiscuous Venus, each played with indignation by Erik Gullberg and Scarlett Bermingham, respectively.
Designer Tatsuki Nakamura's tasteful set decorations and costumes help the action coalesce with the neoclassical columns and statuary in Athens Square Park, thus offering a dynamic space for Bost's considered musings on God, gods, and man.
Presented by On the Square Productions at Astoria's Athens Square Park, at the intersection of 30th Street and 30th Avenue, Queens, N.Y. July 16–29. Fri.–Mon., 7:30 p.m. (Additional performance Thu., July 26, 7:30 p.m.) Admission is free. For information, go to www.onthesquareproductions.com.