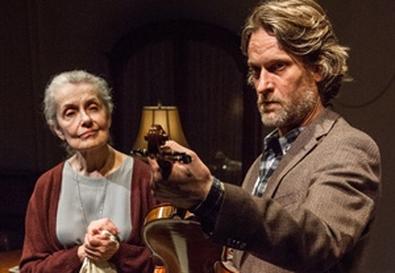 A brittle, bitter elderly woman and an adrift man approaching middle age meet cute over a preposterous plot point. Can you tell where this story is going?

The intergenerational-friendship story is at least as old as "Harold and Maude," and in "The Morini Strad" playwright Willy Holtzman hasn't managed to accomplish anything new beyond surface details. Erica (Mary Beth Peil) is an acid-tongued old woman living in seclusion in her apartment, surrounded by employees and memories of her time as a famous violinist. Brian (Michael Laurence) is an underground luthier whose name is whispered around town by people in the know, but who struggles to make ends meet. He pays the bills by repairing violins; Erica has a priceless Stradivarius that needs rehabilitation. As friends, they make beautiful music.

Or that's the idea, anyway. In reality, director Casey Childs hasn't found a convincing way to stage the multiple scenes on the narrow stage at 59E59 Theaters' downstairs space without the aid of clumsy projections (courtesy of Jan Hartley). M.L. Geiger's lighting design tries to demarcate Erica's apartment on stage left from Brian's studio stage right, but Neil Patel's atypically flimsy set design leaves the bulky furniture visible throughout. Occasionally, internationally renowned violinist Hanah Stuart silently appears as Erica's younger self, playing the violin while distractingly clad in a ruffled dropped-waist dress that renders her a dead ringer for Baby Jane.

As the sometimes-combative friends, Laurence and Peil are never less than committed, even as their material circles the dregs of the Chicken Soup for the Soul series. Erica and Brian argue and shout, but whatever slender emotional connection audiences feel to them would be nonexistent without the firm grounding in reality that Laurence and Peil bring to their scenes. She's demanding and he's aimless, but neither actor settles for playing adjectives. Peil finds some lovely moments of genuine terror beneath Erica's prickly exterior, and Laurence makes Brian something more than a bewildered drudge with longings of artistic fulfillment. The only grace notes among the clinkers of this particular "Strad" come courtesy of these two excellent actors.

Presented by Primary Stages at 59E59 Theaters, 59 E. 59th St., NYC. April 3–28. Tue.–Thu., 7 p.m.; Fri., 8 p.m.; Sat., 2 and 8 p.m.; Sun., 3 p.m. (Additional performance Wed., April 11, 2 p.m.) (212) 279-4200 or www.ticketcentral.com. Casting by Stephanie Klapper Casting.