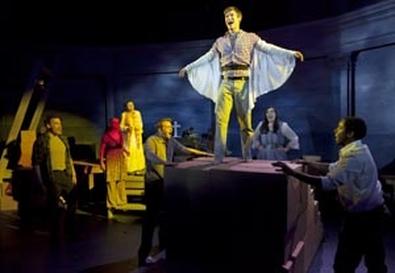 In a recent interview in The New York Times, composer-lyricist Adam Guettel described his song cycle "Myths and Hymns" as something that was "always meant to be a lump of clay." When the Public Theater produced it in 1998 under the title "Saturn Returns," director Tina Landau added the subtitle "A Concert" and chose not to impose any narrative thread. The result was a series of semi-staged songs loosely connected by the theme of a search for faith in God. Now director Elizabeth Lucas has taken the opposite approach for Prospect Theater Company, molding the "clay" to illustrate an invented story about a religious family torn apart by contemporary issues. Though Lucas' work is laudably ambitious and undeniably inventive, the end result is no different: an intriguing but unsatisfying evening of desultory theatricality.
Lucas posits a 60ish widow, unable to speak due to a stroke, in an attic, surrounded by the possessions of a lifetime, on the night before her home and its contents are to be auctioned off. She barricades the door against her care-giving middle-aged daughter and begins frantically trying to pack. This quixotic task soon devolves into the memories these talismans evoke. In broad strokes we see her courtship and marriage to a conservative, deeply pious man; the birth and happy childhood of a son and a daughter; the family's sundering over the daughter's out-of-wedlock abortion and the son's gayness; the early deaths of both son and father; the daughter's inability to form a lasting romantic relationship; and the widow's attempt to make sense of it all.
Guettel's score is inspired by Christian hymns and Greek mythology. Quite sophisticated musically, it melds pop and classical influences into arresting art songs featuring poetic texts that only occasionally employ the specificity of character- or action-defining theater lyrics. The elasticity of meaning allows Lucas to use the songs in new ways, but it also prevents her from exploring those ways in any depth, reducing her newly created tale to a compendium of clichés. This is most damagingly apparent in "Icarus," when the son's death seems to be attributed to his hubris in embracing his sexuality, though I doubt that was the intention.
Fortunately, Lucas' fluid direction is graceful and evocative, and a seven-person cast of fine singing actors inhabits it with conviction. Linda Balgord anchors the show as the family matriarch, endlessly expressive in her silence and powerful in her one song, "Awaiting You," an interior monologue in which the widow angrily challenges her God. As her husband, Bob Stillman, who was also in "Saturn Returns," adroitly mixes severity and sweetness, shot through with pain as he thunders his disapproval of his children in "Jesus the Mighty Conqueror" and plaintive and moving in his beyond-the-grave attempt at reconciliation, "Build a Bridge."
Anika Larsen excels at the daughter's battered weariness in both the needy "Life Is but a Dream" and the country and western–inflected lament "How Can I Lose You?" As the son, Lucas Steele, so good in "The Kid" at the New Group, is again a standout, projecting a heartbreaking innocence, singing with great control in a soaring tenor voice, and dancing Wendy Seyb's ballet-influenced choreography with consummate style. Ally Bonino, Matthew Farcher, and Donell James Foreman provide tip-top vocal and acting support as a commenting chorus that sometimes steps into small roles.
The show looks great thanks to Ann Bartek's precisely defined attic, Emily Morgan DeAngelis' unerring costumes, and especially Herrick Goldman's gorgeous lighting, all reinforced by Janie Bullard's atmospheric sound design. Music supervisor Robert Meffe's six-piece reduction of Bruce Coughlin's excellent 13-piece original orchestration somehow still sounds rich under Katya Stanislavskaya's acute baton.
It's heartening to see so much love and care lavished upon Guettel's compelling cantata. Nevertheless, I remain unconvinced that it's a work that belongs on a stage.
Presented by Prospect Theater Company at the West End Theatre at the Church of St. Paul and St. Andrew, 263 W. 86th St., NYC. Feb. 7–26. Tue. and Wed., 7:30 p.m.; Thu. and Fri., 8 p.m.; Sat., 8:30 p.m.; Sun., 3 p.m. (Sat., Feb. 11, performance at 8 p.m.; additional performance Thu., Feb. 16, 3 p.m.) (212) 352-3101, (866) 811-4111, www.theatermania.com, or www.prospecttheater.org. Casting by Jason Najjoum.