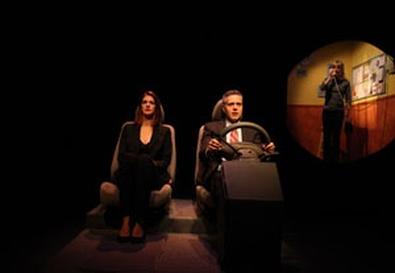 In an age when a professional female voice attached to the dashboard directs us to turn right in 500 feet, tells us what's playing at the local theater, and will even respond to the question "What is the meaning of life?" (albeit with a preprogrammed joke), is it so far a leap for Dave to start listening to his GPS device's advice on what stocks to buy, where to go on vacation, and how to win back his wife?
"The Navigator" is playwright Eddie Antar's clever, cautionary comedy about our tech-dependent era, whose timeliness could almost place it on a double bill with Mike Daisey's anti-Apple monologue. Rather than rooted in reality, though, Antar's main inspiration becomes apparent when he slyly works into his script references to Rod Serling and "The Twilight Zone."
The navigator isn't just a smart device; she's clairvoyant. She sees where there will be a highway accident and steers Dave clear of it. She predicts the behavior of Dave's would-be boss, and she knows exactly what will work to keep his teenage daughter in line. She has, in short, something mankind has been seeking since the beginning: all the answers. How could Dave not listen to her?
The answer to that question is one of the two main reasons to see "The Navigator." The other is the performance by Kelly Anne Burns as the GPS device. Dressed in a black pantsuit—exactly the kind of smart ensemble a Global Positioning System should wear—she sits primly in the passenger seat, her eyes focused impersonally in the distance, her head given to the tiniest machinelike nods, her voice an eerie replica of a voice that has become frighteningly common. It is a precise and hilarious performance.
The other characters function as something of her straight men, at an unfair advantage because they are, after all, only human. Joseph Franchini plays Dave as a Jack Lemmon
–
like put-upon Everyman and offers a few great double takes, but Dave is burdened with a grim backstory. Nicole Taylor as Dave's wife and travel agent and Michael Gnat as his broker, boss, and bookie are seen in little upstage areas that only light up when Dave calls them from his car.
With a light touch, "The Navigator" leaves you thinking about some of the ramifications of our tech obsessions, at least until we leave the theater and get to turn our smart phones back on.
Presented by and at WorkShop Theater Company, 312 W. 36th St., 4th floor, NYC. Feb. 11
–
March 3. Thu.
–
Sat., 8 p.m.; Sun., 3 p.m. (Additional performance Mon., Feb. 20, 8 p.m.) (212) 352-3101, (866) 811-4111,
www.theatermania.com
, or
www.workshoptheater.org
.