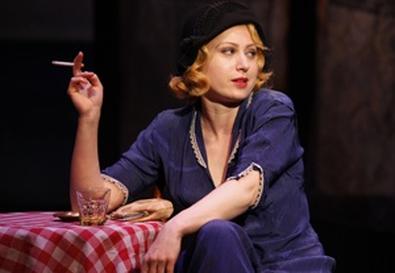 To revive something is to breathe new life into it, but the Irish Repertory Theatre's "revival" of "New Girl in Town," the George Abbott–Bob Merrill musical adaptation of Eugene O'Neill's drama "Anna Christie," does the opposite. This uneven, miscast, and occasionally preposterous production sucks the life out of the 1957 original and makes it hard to believe that the same musical garnered a Tony Award nomination for best musical, won best actress Tonys for its stars Gwen Verdon and Thelma Ritter in a tie, and ran for 431 performances.

Particularly destructive are the revisions that Irish Rep has inflicted on "New Girl in Town." They include shifting songs from scene to scene, omitting characters, and creating new but wooden dialogue—and almost all of them do more harm than good. The culminating miscalculation is the grafting of a marching-band comedy number onto the end of the show, a ploy that neuters the musical's final tender moments and saddles it with a ridiculous and totally illogical big finish.

The plot of "New Girl in Town" centers on Anna, a down-on-her-luck prostitute, who goes to visit her father, Chris, a barge skipper she hasn't seen in years. Chris believes her to be a nurse, but his live-in lover Marthy realizes immediately that Anna is not an innocent. When Chris rescues three shipwrecked seamen, one of them—a powerful coal stoker named Matt—falls madly in love with Anna. Anna doesn't tell him of her past, because she fears she'll lose him if she does. Marthy, resentful of Anna, does tell him, and sure enough Matt breaks with Anna, though he returns a few months later to apologize. Shortly thereafter love blooms anew.

Merrill's score, his first venture into musical theater, is bright, tuneful, and earthily witty. It's true that some of his ragtime numbers seem dropped in rather than grown from psychological foundations, but they add a needed sense of life to the musical's grim milieu.

The show moves fluidly under Charlotte Moore's direction. Barry McNabb's choreography is mostly smart and fun, though the ballet he crafts for Anna after she realizes Matt has left her falls thuddingly flat.

Margaret Loesser Robinson is a lovely and talented performer, but she is unable to communicate sufficient desperation to make Anna believable. Patrick Cummings lacks Matt's animal magnetism. Cliff Bemis makes the most out of the clichéd role of Chris. Fortunately, the delightful Danielle Ferland, who plays Marthy, is on hand to provide verve and verisimilitude.

James Morgan's set captures the seediness of the docks with a touch of poetry. China Lee's wonderful costumes add welcome color, and Josh Clayton's orchestrations for a four-piece band sound fresh and authentic.

The injunction "First, do no harm," applies equally to medical and show doctors. Irish Rep should have heeded it.

Presented by and at the Irish Repertory Theatre, 132 W. 22nd St., NYC. July 26–Sept. 9. Wed., Fri., and Sat., 8 p.m.; Thu., 7 p.m.; Wed., Sat., and Sun., 3 p.m. (212) 727-2737 or www.irishrep.org. Casting by Deborah Brown.