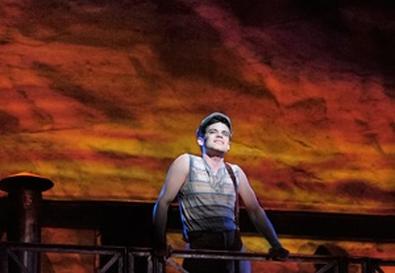 I was heartily surprised by "
Newsies
" in its engagement last fall at Paper Mill Playhouse. Songwriters Alan Menken and Jack Feldman, in collaboration with new scripter Harvey Fierstein, director Jeff Calhoun, and choreographer Christopher Gattelli, had done the sow's-ear-to-silk-purse thing with this 1992 Disney film flop. There was still some work to be done, but the show was firing on most cylinders. The positive news is that the good things about "Newsies" are still just as good or better. What's disappointing is that though the flaws have been addressed, they haven't all been corrected. Fortunately, the pluses far outweigh the minuses, and Broadway has a galvanizing new hit.
Top of the heap is Jeremy Jordan's star-making turn as Jack Kelly, the 17-year-old who in 1899 leads New York City's newsboys out on strike against Joseph Pulitzer's New York World when the magnate arbitrarily ups the price that the "newsies" have to pay for the "papes" they hawk on the gritty city streets. Jordan has it all: good looks, charisma, a dynamite vocal instrument, and strong acting chops. He can even manage some more-than-passable hoofing. His Jack Kelly is destined to be remembered as an iconographic Broadway performance. Interestingly, while Jordan did fine work as Clyde Barrow earlier this season in the unfortunate "Bonnie & Clyde," he had only a fraction of the impact he has here, proof that to make a star, you first need the right material.
Speaking of that material, the authors have punched it up in important ways. Fierstein has tweaked a crucial Act 2 scene between Jack and the girl he loves, crusading reporter Katherine Plumber, to bring their romance to a more satisfying conclusion. This has led Feldman (whose carefully crafted lyrics are manna in the Broadway desert) and Menken to replace a perfectly fine romantic duet, "Then I See You Again," with the even better "Something to Believe In." Fierstein has also wisely turned Pulitzer into a credible villain rather than the mustache-twirling Snidely Whiplash he was in New Jersey. This also required a new song, but "The Bottom Line," though a definite improvement on "The News Is Getting Better," still isn't the right one. Pulitzer isn't a character who naturally sings, and it might have been smarter to make that an asset and not let him.
The changes in the treatment of Medda Larkin, a music-hall impresario and performer who serves as a plot facilitator, are head-scratching. Making the character African-American and then completely ignoring the issues that raises is irresponsible, especially in a family show intended to slip in some education with the entertainment. Worse, Medda's new solo vaudeville number makes no salient comment, can't dramatize her character, and does nothing but slow things down. It also reduces the effectiveness of Jack's "I Never Planned on You," originally sung in counterpoint to Medda's old performance number "Don't Come a-Knocking," which remains behind it sung by some faceless chorines like a leftover crumb. Medda, who needed a greater emotional connection to the story line and a character-defining song that dramatized it, is now the show's one glaring weakness.
The performances of Kara Lindsay, as Katherine; Andrew Keenan-Bolger, as Crutchie, a newsie with a gimpy leg; and Ben Fankhauser, as Davey, the brains of the operation, continue to be terrific. John Dossett, returning as Pulitzer, takes to the new approach, resulting in a genuinely dangerous publisher. Newcomer Matthew J. Schechter, who shares his role with Lewis Grosso, is sharp and engaging as Davey's 10-year-old brother, Les. Capathia Jenkins seems lost as Medda, but it's not her fault. The talented youngsters who play the newsies continue to amaze with their extraordinary execution of Gattelli's acrobatic choreography while conjuring a visceral sense of boyish camaraderie. Kudos once again to the knockout physical production from Tobin Ost (sets), Jess Goldstein (costumes), Jeff Croiter (lights), and Sven Ortel (projections) and the fluid way Calhoun's speedy direction takes advantage of it.
"Newsies" may not be perfect, but few shows are. Seize the day and make a beeline for this Disney winner.
Presented by Disney Theatrical Productions at the Nederlander Theatre, 208 W. 41st St., NYC. March 29–Aug. 19. Mon., 7 p.m.; Wed., 2 and 7:30 p.m.; Fri., 8 p.m.; Sat., 2 and 8 p.m.; Sun., 1 and 6:30 p.m. (800) 745-3000 or www.ticketmaster.com. Casting by Telsey + Company/Justin Huff.