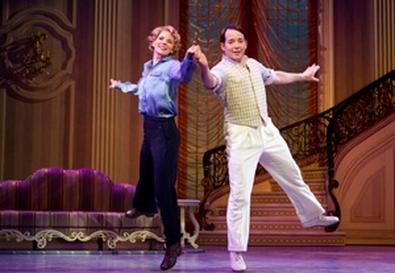 You'd think that any show involving the talents of Matthew Broderick, Kelli O'Hara, Kathleen Marshall, and the brothers Gershwin would be a sure-fire Broadway stunner, wouldn't you? Unfortunately, "Nice Work If You Can Get It," despite a few bright spots, fails to hold together as a glittering entertainment, unlike previous efforts such as "My One and Only" and "Crazy for You."
"Nice Work" uses the same basic formula of those earlier hits: Take an obscure Gershwin musical from the 1920s, jazz up the creaky old book, add a few other classic tunes from George and Ira's oeuvre, get a hot director and choreographer to set those evergreens a-dancing—and voilà, a new hit. ("My One and Only" started out as an update of "Funny Face," but its final incarnation contained a largely new story line, while "Crazy for You" is basically "Girl Crazy" with some tweaks.) While "One" and "Crazy" were able to pull off admirable cut-and-paste jobs, "Work" resembles a jigsaw puzzle with the pieces forced together.
The biggest problem is Joe DiPietro's book. Despite its subtitle, "a new musical comedy," the show bears a more-than-striking resemblance to "Oh, Kay!," a featherweight 1926 hit about a feckless playboy and a lady bootlegger that had a relatively short-lived revival in 1990. DiPietro's script is billed as being "inspired by material by Guy Bolton and P.G. Wodehouse," the original authors of "Oh, Kay!" With shows like this, the musical numbers are the top priority, and the story is given short shrift, but even by these lax standards the update is subpar. The plot is weak, the jokes are lame, and the characters are cardboard. If DiPietro went all the way into satire, he might have come up with a fun parody such as "The Drowsy Chaperone," but he only makes a halfhearted attempt.
Director-choreographer Kathleen Marshall does a proficient job with the dance numbers, which are executed by an attractive and energetic ensemble—I particularly liked the girl with the Louise Brooks bob and the one with an ever-present cigarette dangling from her lips—but Marshall fails to scale the imaginative terpsichorean heights she did in "Anything Goes." Worse, she's unsuccessful in seamlessly blending the show's disparate elements.
Another central flaw is the casting. At 50, Broderick is pushing the Ferris Bueller act and doesn't convince as a boyishly charming rich kid. There's little chemistry between him and the vibrant O'Hara, his leading lady. O'Hara works wonders with her tomboyish bootlegger, movingly delivering such gems as "But Not for Me," while Broderick has only a mildly pleasant voice and limited dance ability. During their Astaire-Rogers duets, it's obvious that he's straining to keep up with her. Broderick does have a few ingratiating moments, such as a cute rendition of "Do, Do, Do" in which he accompanies himself on the ukulele and is backed by a trio of sweater-clad college students. Cleverly staged by Marshall, this number captures the innocent sweetness of the Roaring '20s, a quality sadly lacking in the rest of the show.
The supporting cast is full of sturdy character people, but they have a tough time rising above their clichéd assignments. Most successful are Jennifer Laura Thompson, as a vain Isadora Duncan figure, and Judy Kaye, as a righteous prohibitionist. Michael McGrath does a retread of his tough cookie from last season's "Born Yesterday," and Stanley Wayne Mathis mugs up a storm as a dimwitted police chief. Estelle Parsons provides some welcome tartness in the last 10 minutes, but it's too little and too late to save this labored effort. Nice work by orchestrator Bill Elliott and designers Martin Pakledinaz (costumes) and Derek McLane (sets), though.
Presented by Scott Landis, Roger Berlind, Sonia Friedman Productions, Roy Furman, Standing CO Vation, Candy Spelling, Freddy DeMann, Ronald Frankel, Harold Newman, Jon B. Platt, Raise the Roof 8, Takonkiet Viravan, William Berlind/Ed Burke, Carole L. Haber/Susan Carusi, Buddy and Barbara Freitag/Sanford Robertson, Jim Herbert/Under the Wire, Emanuel Azenberg, and the Shubert Organization at the Imperial Theatre, 249 W. 45th St., NYC. Opened April 24 for an open run. Tue. and Thu., 7 p.m.; Wed., Fri., and Sat., 8 p.m.; Wed. and Sat., 2 p.m.; Sun., 3 p.m. (212) 239-6200, (800) 432-7250, or www.telecharge.com. Casting by Binder Casting, Jay Binder/Jack Bowdan.