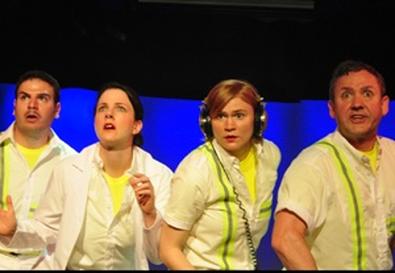 To appreciate "Night of the Auk," it is necessary to know in advance that Arch Obler's now-laughable science-fiction play about mankind's first trip to the moon and subsequent nuclear annihilation was seriously intended and received a Broadway production that was directed by Sidney Lumet and starred Christopher Plummer, Dick York, and Claude Rains! When it opened on Dec. 3, 1956. Brooks Atkinson deemed it "loquacious," "portentous" and "streaked with purple patches" of "gibberish." It closed five days later.

In a campy tradition well-embedded at the Fringe, the five performers depicting astronauts in a doomed space ship are directed by Adam Levi and Kaitlyn Samuel to give comically melodramatic line readings of the verbatim script. A little of this goes a long way. Mercifully, adapter Michael Ross Albert has cut "Night of the Auk" to slightly more than a third of its original three-hour length. Albert also plays the authoritarian homicidal capitalist who finances the mission. One can guess there weren't as many laughs when Plummer played him.

Presented by Outside Inside and Hubo Productions as part of the New York International Fringe Festival at the Players Theater, 155 MacDougal St., NYC. Aug. 10–20. Remaining performances: Sat., Aug. 11, 9:45 p.m.; Thu., Aug.16, 4:45 p.m.; Fri., Aug. 17, 7:30 p.m.; Sat., Aug. 18, 5:30 p.m. (866) 468-7619 or www.fringenyc.org.