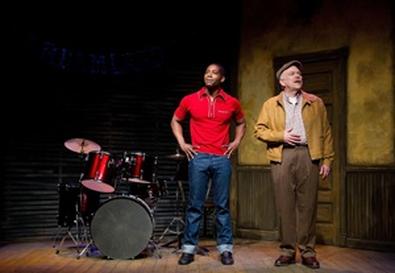 Monica Bauer's new drama "My Occasion of Sin" suffers from a bad case of split personality. There are two related narratives, one far more compelling than the other in both staging and structure, and the imbalance damages the play's impact.
Set in ethnically divided 1969 Omaha, Neb., the plot takes two diverging paths toward a reality-based race riot. One trail chronicles the relationship between Polish-American music-store owner George Hollewinski and African-American musician Luigi Wells (that first name is a nickname acquired while serving in Italy during World War II). George's business is failing, and his polka band is getting few if any gigs. Luigi, a jazz drummer, offers to give George lessons in the new rock 'n' roll that all the kids are crazy for, in return for a percentage of the profits. When George's bigoted wife, Helen, becomes increasingly suspicious of Luigi's attention to his student Mary Margaret, a Catholic schoolgirl who is like a daughter to the childless Hollewinskis, the table is set for some predictable racial conflict.
The second story arc concerns African-American teenager Vivian Strong, who is just finding out that Luigi is her father. How Vivian deals with this information; her budding romance with Duane, an adolescent Black Panther; her contentious relationship with her possessive mother; and her growing love of jazz form the basis for a series of monologues. These solos alternate with extended scenes from the first plot line and seem only tangentially connected. The two threads are clumsily joined together in a denouement that feels forced by the playwright rather than organically derived from the characters and their connections.
The scenes involving Luigi and the Hollewinskis creak like machinery as they trudge along a familiar melodramatic track. Royce Johnson as Luigi and Rosebud Baker as Mary Margaret do their level best to bring freshness and variety to their roles but are defeated by the cliché-ridden script. Baker is particularly admirable at evoking Mary Margaret's stubbornness, energy, and naiveté about prejudice. Scott Robertson's George and Janice Hall's Helen are little better than cardboard cutouts.
Fortunately, the show is salvaged by the character of Vivian and the actor who plays her, Danielle Thompson. Bauer makes her as alive and interesting as the other figures are wooden. She's fun, smart, and has quirky and amusing affectations, such as pretending to be invisible in order to find out what's happening in her crime-ridden neighborhood and at the music hall run by Luigi. Thompson endows her with a high-voltage spirit; I longed for her to return while the other scenes were playing.
Frances Hill's staging is passable but not much more, with the scenes and monologues divided by long blackouts that are somewhat relieved by Kevin R. Frech's colorful projections and Sean Hagerty's jazz-infused sound design.
Presented by and at Urban Stages, 259 W. 30th St., NYC. March 21–April 15. Wed.–Fri., 8 p.m.; Sat., 3 and 8 p.m.; Sun., 5 p.m. (Additional performance Tue., April 10, 8 p.m.) (212) 868-4444 or www.smarttix.com