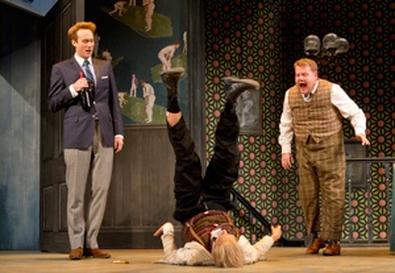 From the moment you enter the Music Box Theatre, where the National Theatre of Great Britain's impossibly funny "One Man, Two Guvnors" is literally laying them in the aisles, you know you're in for a good time. A quartet of young musicians is spiritedly regaling theatergoers with Grant Olding's peppy pastiche tunes paying tribute to a certain fab foursome of the early 1960s. Once they finish, and the curtain rises on Mark Thompson's charming cutout set depicting Brighton in the aforementioned decade, we are launched on a roller-coaster ride of silly hilarity, much like the amusement attractions of that gloriously tacky seaside resort.
Playwright Richard Bean freely and brilliantly transposes the commedia dell'arte conventions of Carlo Goldoni's 1746 romp "The Servant of Two Masters" to 1963 Britain. Cunning but easily confused servant Francis Henshall contrives to work for two employers: upper-class twit Stanley Stubbers and resourceful Rachel Crabbe, disguised as her twin brother, Roscoe, who has been murdered. In just two of numerous complications, the "guvnors" are in love with each other and on the lam from the law. The plot twists multiply in the first act as Francis keeps his two bosses separated and attempts to consume a long-delayed meal; in the second act mayhem continues as Francis tries to launch a sexual tryst with the well-endowed Dolly, a liberated bookkeeper.
But the story is not really the main thing here. That would be Nicholas Hytner's dazzling and delirious staging, which establishes the ingeniously absurd setups and then accelerates them, shifting into higher and higher comic gear. The Music Box management should be required to install restraints for the seats, as you're likely to be falling out of yours from laughing so hard. Maintaining the theme of small-time-sideshow entertainment, for which Brighton is famous, the scenes are punctuated with characters performing amateur musical numbers on the xylophone, horns, ukulele, steel drums, and even their own bodies. There's also a credit for "physical comedy director"—the first time I've seen that one—given to Cal McCrystal, who deserves equal praise for the many perfectly executed pratfalls. Hytner and McCrystal's seamless collaboration is best exemplified by the inspired lunch scene, in which Francis is serving his two guvnors in separate private dining rooms while snatching bites for himself. Plates of food go every which way as an aged waiter, a confused chef, and a hapless member of the audience are drawn into the madness. There is a big surprise involving the last named participant, but I won't give it away.
At the center of this inspired insanity is James Corden as Francis. Largely unknown on these shores—unless you're a fan of "Doctor Who," on which he has played a recurring role—Corden is a master clown who establishes a solid connection with the audience and leads it on a merry chase around the hairpin turns of Bean's riotous script. The rest of the company, also imported from the original production, is just as guffaw-inspiring. I particularly reveled in the antics of Oliver Chris, a buffoon reminiscent of "Monty Python" as Stanley, and Tom Edden, a walking sight gag as Alfie, a decrepit waiter. As the gender-switching Rachel, Jemima Rooper is admirably deft in both sides of her sexual charade. Daniel Rigby is spectacularly self-involved as a wannabe thespian, and Claire Lams is delightfully dim as his dull-witted girlfriend. Fred Ridgeway, Suzie Toase, Martyn Ellis, and Ben Livingston add to the high jinks.
My only quibble: There are a few British cultural references and slang terms that get lost in the transatlantic translation, but these can be overlooked, as the laughs-to-dialogue ratio is uncommonly high.
Presented by Bob Boyett, National Theatre of Great Britain, National Angels, Chris Harper, Tim Levy, Scott Rudin, Roger Berlind, Harriet Newman Leve, Stephanie P. McClelland, Broadway Across America, Daryl Roth, Jam Theatricals, Sonia Friedman, Harris Karma Productions, Deborah Taylor, and Richard Willis at the Music Box Theatre, 239 W. 45th St., NYC. Opened April 18 for an open run. Tue., 7 p.m.; Wed.–Sat., 8 p.m.; Wed. and Sat., 2 p.m.; Sun., 3 p.m. (Sun., April 22, performances are at 2 and 7:30 p.m.) (212) 239-6200, (800) 432-7250, or www.telecharge.com. Original U.K. casting by Alastair Coomer. U.S. casting by Tara Rubin Casting.