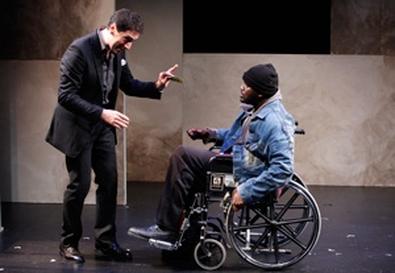 Disabled people: They're just like us. They have sex. They fight with their parents. They lose their jobs. They worry about going off to college and choosing a career. However, society continues to discriminate against them. Theater Breaking Through Barriers creates a platform to bring these issues to life while employing actors of all abilities in plays that provide levels of commentary on the disabled community.
In the first installment of TBTB's 10-minute-play festival, "Some of Our Parts," company members called out disabled characters in well-known shows, such as Laura in "The Glass Menagerie," who are often played by able-bodied actors. In "More of Our Parts," some of the plays cast disabled performers in roles that don't specify ability, similar to colorblind casting. For example, in Bekah Brunstetter's "After Breakfast, Maybe," a mother and a daughter exchange pleasantries over breakfast. The dynamic is typical of a disgruntled adult daughter living at home with a lonely mother who just wants what's best for her. Shannon DeVido, who is in a wheelchair, plays the daughter with depth and emotion, and the unspoken message is loud and clear without any overt comment.
Brunstetter returns to the festival for the second year, along with Neil LaBute and Samuel D. Hunter. LaBute, never one to compromise his misogynistic style, delivers "The Wager," a more than uncomfortable play about a power-hungry alpha male and his encounter with a wheelchair-bound homeless man. In "Geese," Hunter considers the sympathies that people express for the disabled and the frustrations that come from others feeling sorry for you all the time.
The evening opens with Bruce Graham's unsettling though poignant "The Ahhh Factor," which explores a Hollywood executive's hesitance to produce a movie that features a deaf woman in a nude scene. Director Russell Treyz elicits a nice rhythm from Warren Kelley as the executive and Jonathan Todd Ross as the screenwriter. The issue is as pertinent as any casting question invoking racism or sexism.
Jeffrey Sweet's "A Little Family Time" is a weaker piece, though the undeniable connection between Joshua Eber as Lewis and Shawn Elliott as his father, Eli, is touching. The premise is somewhat unbelievable: Eli has hidden Lewis, who has Down syndrome, from his fiancée and must introduce them at a chance meeting.
A.R. Gurney's "The Interview" is cute, and Nicholas Viselli completely transforms into a worrisome father from the prick he plays in LaBute's piece. Stephen Drabicki is charming as the partially deaf son who is self-conscious about his hearing during a college interview. The scenario isn't anything new, but that's what TBTB does best. It provides a fresh perspective on ordinary scenarios, furthering the conversation about actors of all abilities.
Presented by Theater Breaking Through Barriers at the Clurman Theatre, 410 W. 42nd St., NYC. June 21–July 1. Tue.–Thu., 7:30 p.m.; Fri. and Sat, 8 p.m.; Sat. and Sun., 3 p.m. (212) 239-6200, (800) 432-7250, or www.telecharge.com.