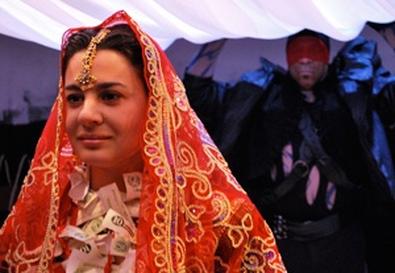 The devastating violence that erupted in the wake of the 1947 British-mandated partition of India and creation of Pakistan is portrayed with grand imaginative theatricality in Riti Sachdeva's "Parts of Parts & Stitches." The playwright also puts an affecting human face on this epic chapter of history. Directed by Cat Parker with pictorial verve and emotional veracity, it makes for an involving piece of work, particularly impressive considering the constraints of Off-Off-Broadway production.
As the play begins, two Hindu families in a small village in the province of Punjab are happily preparing for the wedding of Yamuna and Jiwan. But the festive mood is intermittently darkened by reports of ever-encroaching violence as Hindus and Muslims attack and kill each other in conflicts over religion and land. Even as the wedding takes place in ceremonial elegance, the two families ready themselves to leave their village, which will become part of Muslim-dominated Pakistan.
Throughout the proceedings a quartet of vultures hovers, commenting on the action and embodying the sense of impending doom. And indeed the act ends with the death of the bridegroom in a massacre. Sachdeva writes this act in folkloric style, lending it a seductive charm, while her second act takes on an aura of magic realism blended with classic tragedy. Yamuna desperately attempts to stitch together the dismembered body of her husband, so that she will recognize him in the next life, fending off threatening mobs and growing interaction with the vultures, anxious for prey.
Parker has melded her 14-person cast into a highly responsive ensemble, unfailingly supporting the play's delicate balance of political passion and fairy-tale atmosphere. Mariam Habib's portrayal of the young bride, from winsome virgin to tragic heroine, is gripping, as is the menace of the vultures, convincingly enacted by Eric Percival, Antonio Miniño, Deanna McGovern, and Dathan B. Williams. There is also notable work by Imran W. Sheikh, as Jiwan; Bushra Laskar, as Yamuna's saucy but loyal Muslim maid; and Sergei Burbank, as a Muslim leader of the village.
The colorful costumes by Karen Ann Ledger; atmospheric set and lighting by George Allison and Carl Faber, respectively; and the multiple moods of Martha Goode's sound design all contribute strongly to the impact, while Parker's staging in three-quarter round allows for intimacy as well as sweep.
Palpable throughout is Sachdeva's fervent attachment to the material, drawn from her own family's history and her yearning for an end to political struggle. She gives the vultures the last word. Until man can "refocus the contents of his mind…," the vultures tell us, "alas until then we are well fed."
Presented by Maieutic Theatre Works and Martha Goode, in collaboration with the Indo-American Arts Council, at the Theatre at 14th Street, 14th Street Y, 334 E. 14th St., NYC. March 20–31. Tue.–Thu., 7 p.m.; Fri. and Sat., 8 p.m. (212) 352-3101, (866) 811-4111, www.theatermania.com, or www.mtworks.org.