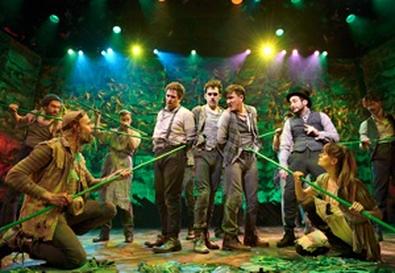 Has "Peter and the Starcatcher," the dazzlingly fun riff on the Peter Pan legend that lit up the intimate New York Theatre Workshop last season, lost any of its luster in a trip to the Never Never Land of Broadway? When this clever and joyous entertainment opened last March, there were immediate murmurings about a Main Stem transfer. There were also fears that Rick Elice's adaptation of Dave Barry and Ridley Pearson's novel would lose its special charm in a cavernous Midtown theater. I'm happy to report that "Peter" has not given up a speck of its fairy dust
–
infused whimsy. This is a celebration of youth and of the power of theater to inspire children and adults alike.
Employing a combination of story-theater techniques and English-musical-hall parody, the show imagines the origins of the boy who refused to grow up, his legion of loyal orphans, and the pompous pirate Captain Hook. We're in a sort of weird time warp; it appears to be the late 19th century, but somehow references to Philip Glass, Ayn Rand, and Starbucks don't seem out of place. A troupe of 12 intrepid players, almost all of them holdovers from the NYTW stand, enact a complex plot involving an unnamed foundling, the brave girl he befriends, a mysterious substance called "star stuff," and a whacked-out pirate captain with a penchant for malapropisms and chewing up scenery.
Black Stache, that last character, is magnificently brought to life by Christian Borle, who may as well start clearing shelf space for a Tony to go with the Lortel Award he won for the Off-Broadway production. In one of the most hysterical over-the-top performances New York has seen in years, Borle channels Peter Sellers' Inspector Clouseau, Johnny Depp's Jack Sparrow, and Cyril Ritchard's Captain Hook, yet he gives this foppish cutthroat his own stamp, following every pratfall with a recovering gesture, as if to say, "I meant to do that!" And let's not forget his numerous reactions to the corrections offered by Kevin Del Aguila's delightfully sniveling Smee every time Stache utters an inappropriate word or phrase. Each is distinct and utterly hilarious.
I could write a dissertation on Borle's brilliant work, but that would not allow me space to praise the remainder of this versatile company. Adam Chanler-Berat heartbreakingly charts the journey of the proto
–
Peter Pan, from terrified whelp to valiant boy hero. Celia Keenan-Bolger endows Molly, his rival for leadership and a potential crush, with a starchy spine, a stiff upper lip, and sly humor. Carson Elrod and David Rossmer pursue solid objectives as Prentiss and Ted, the first two of the lost boys. Prentiss must prove he's a leader, and Ted only wants to find food. Teddy Bergman's feisty Fighting Prawn, Arnie Burton's boisterous Mrs. Bumbrake, and Matt D'Amico's repulsive Slank are also worthy of applause.
Directors Roger Rees and Alex Timbers have retained the staggering slapstick of their previous production and adapted it for the larger confines of the Brooks Atkinson Theatre. Nary a sight gag or a clever bit of business is lost. Kudos also to scenic designer Donyale Werle, who transforms the proscenium into a glittering Victorian music box and the stage into a playground of the imagination. Jeff Croiter's lighting transports us to a variety of locations, from scurvy scow to tropical paradise.
Will the show soar to box-office heights? That's hard to predict. Though the proceedings are more fun than the proverbial barrelful of monkeys, there are no elaborate special effects, and the closest thing to a star is Borle, thanks to his gig on NBC's "Smash." But if audiences will give it a chance, "Peter and the Starcatcher" should be in the Broadway skies for many a season.
Presented by Nancy Nagel Gibbs, Greg Schaffert, Eva Price, Tom Smedes, Disney Theatrical Productions, Suzan and Ken Wirth/DeBartolo Miggs, Catherine Schreiber/Daveed Frazier and Mark Thompson, Jack Lane, Jane Dubin, Allan S. Gordon/Adam S. Gordon, Baer and Casserly/Nathan Vernon, Rich Affannato/Peter Stern, Brunish and Trinchero/Laura Little Productions, Larry Hirschhorn/Hummel and Greene, Jamie deRoy and Probo Prods./Radio Mouse Ent., Hugh Hysell/Freedberg and Dale, and New York Theatre Workshop at the Brooks Atkinson Theatre, 256 W. 47th St., NYC. Opened April 15 for an open run. Mon.–Thu., 7 p.m.; Fri. and Sat., 8 p.m.; Wed. and Sat., 2 p.m. (No performance Mon., April 16; additional performance Sun., April 22, 3 p.m. Thu., May 10, performance is at 2 p.m.) (877) 321-0020 or www.ticketmaster.com. Casting by Jim Carnahan, Jack Doulin, and Tara Rubin.