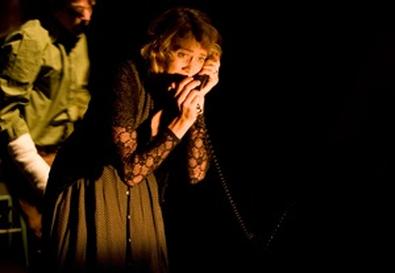 Has there ever been a happy ending in futuristic fiction? Do not look to young Danish playwright Jokum Rohde to break the pattern. He is being introduced to New York by Scandinavian American Theater Company with "Pinocchio's Ashes," whose setting is the city of Kongstad in an unnamed totalitarian state. Here Prohibition reigns, outlawing not liquor but art. Yes, there's a national ban on art and culture, with severe punishments for those found practicing any such endeavors. Rohde begins his play with this moral stance, but that is only the start in a protracted roller-coaster ride that is an odd combination of the horrific and the comic. He is certainly an ambitious and spirited playwright who has lots of fish to fry, including several of the pretentious variety. Indeed, he's something of a new species: a moral absurdist who overdoses on Freud and Krafft-Ebing.
When an informant, Marc Dutroux (Albert Bendix), finds a Pinocchio doll in the workshop of a local cabinetmaker, Werner Brown (Mike James), he reports the crime to Judge Wolff (Alfred Gingold). Werner did not make the doll, but he is so thrilled to be regarded as an artist that he confesses. With his mother, Miranda (Sue-Ellen Mandell), Werner is brought in front of Wolff, ambitious prosecutor Alexander Trocchi (Neal Moeller), and court reporter Carola Lang (Lisa Pettersson). The judge sentences Werner to have his right hand cut off, which is done in the courtroom. As a result, chaos begins in Kongstad. With just these six characters—plus Carola's young daughter Mary (Izzy Hanson-Johnston)—Rohde creates a dizzying series of topsy-turvy relationships that become the journey of the play.
In this dark "Alice in Wonderland" world reversal is the norm: The innocent become guilty, the guilty seek redemption, and we witness crimes that include child murder and public suicide. Along the way Rohde juggles many themes, decking them out with symbols, riddles, and oracles. It gets so excessive that you being to suspect that he may be satirizing himself. Then you hear a line like "What do you worship, the beast in man or the God in man?" and you fear that the author is in deadly earnest.
Under the firm direction of Henning Hegland, the cast does battle with the material with remarkable success. There's not a weak link in the chain, from Pettersson's almost-normal mother to Moeller's oily attorney and Mandell's mysterious sideshow oracle. The two leading roles, Gingold's agonized judge and James' guileless artist, are very well done. Both men are strong performers we'd like to see more of.
Presented by Scandinavian American Theater Company at Theater for the New City, 155 First Ave., NYC. April 16–29. Mon., Wed.–Sat., 7:30 p.m.; Sun., 3 p.m. (800) 838-3006 or www.brownpapertickets.com