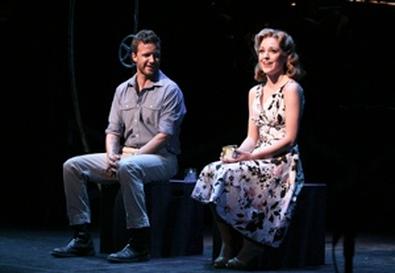 With its concert production of Richard Rodgers and Oscar Hammerstein II's 1955 musical flop, "Pipe Dream," Encores! is doing would-be composers, lyricists, and book writers a big favor: offering incontrovertible evidence that musicals cannot live by atmosphere alone. However seductive tone, sensibility, and milieu may be, they're not enough. You need a sturdy plot, vivid characters, and high stakes for a musical to soar. This is made even more apparent by the bang-up job director Marc Bruni, musical director Rob Berman, and a first-rate cast and orchestra have done in presenting R&H's misstep. Still, thanks to a frequently lovely and engagingly quirky score, you could do worse for an evening's entertainment.
Leslie Uggams and cast PIPE DREAM photo by Ari Mintz

R&H initially looked at musicalizing John Steinbeck's bestselling novel "Cannery Row" but decided there wasn't enough plot, so Steinbeck offered to write a sequel that had one and turned out "Sweet Thursday." The musical theater titans should have sued for breach of promise. Instead, they plunged ahead with this tiny wisp of a story about the push-pull love affair of Doc, a marine biologist living a carefree bum's life on California's Monterey Bay, and Suzy, an itinerant prostitute who arrives in town and awakens his ambition to amount to something. (Well, in the musical she's not really a prostitute; she's just temporarily living in a whorehouse.) Also prominent are Fauna, the madam of the Bear Flag Café; Mac, the unofficial leader of the Flophouse Gang, a bunch of eccentric guys sharing living quarters and working very hard at loafing; and Hazel, an extremely slow-witted member of the gang who idolizes Doc. For the chorus, we have the Bear Flag girls and the people of Cannery Row, all of whom are obsessed with getting Doc and Suzy together. Naturally, after some awfully forced obstacles, they do.
In David Ives' judiciously trimmed adaptation (among other things, he smartly removes some queasy jokes about homosexuality and domestic abuse), the show moves with welcome swiftness. The musical's centerpiece is actually Fauna, who first time around was played by opera star Helen Traubel. This, however, necessitated moving lower keys skyward to fit her Wagnerian soprano. The casting of Leslie Uggams allows the originals to be restored, and it makes a world of difference. Uggams' Fauna is warmly maternal yet sensual, the center of attention whenever she's onstage. The star's singing is spectacular, whether expressing the jaunty optimism of "Sweet Thursday," the tongue-in-cheek irony of "The Happiest House on the Block," or the romantic simplicity of the show's best song, "All at Once You Love Her." Uggams is particularly good on "Suzy Is a Good Thing," a scene-in-song in which Fauna tries to convince the battered young girl of her self-worth.
As Doc and Suzy, Will Chase and Laura Osnes are a charming set of mismatched lovers. She makes Suzy's untoward bursts of anger clearly rooted in her lack of self-esteem, while he takes bemusement further than you ever thought it could go. Both succeed with their solos but are even better in two duets: the rueful "The Next Time It Happens" and the above-mentioned "All at Once You Love Her." Indeed, just when you've settled in to accepting the second-rate book writing, Chase and Osnes, with a little help from Hammerstein, surprise in the gem of a scene that ends Act 1 with magic: Suzy and Doc's first date. It's a glimpse of the show that must have been in Hammerstein's head.
Veteran Tom Wopat, singing better than ever, is reliably good as the gruff softy Mac, and Stephen Wallem's focus and understatement do wonders with the somewhat embarrassing role of Hazel. Wallem even succeeds in making something out of "Thinkin'," possibly the worst song R&H ever wrote. The rest of the company contributes the requisite color and verve, with Philip Hernández standing out as Joe the Mexican. Kelli Barclay's choreography is a bit stymied by R&H's uncharacteristically bland use of dance, but she contributes a lovely fantasy solo, danced with flair by Charlie Sutton, for "The Man I Used to Be."
Encores! will be recording "Pipe Dream (in Concert)" live, thanks to the installation of new technology during the restoration of City Center. It'll make a honey of a cast album.
Presented by Encores! at New York City Center, 131 W. 55th St., NYC. March 28–April 1. Wed., 7:30 p.m.; Thu. and Fri., 8 p.m.; Sat., 2 and 8 p.m.; Sun., 7 p.m. (212) 581-1212 or www.nycitycenter.org. Casting by Jay Binder/Jack Bowden.