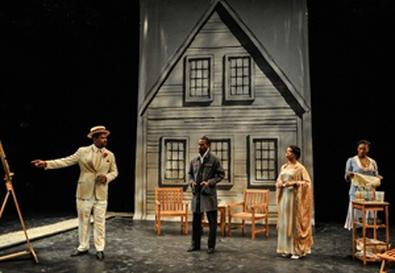 August Strindberg died 100 years ago this month at age 63, having written some 60 plays, including "Miss Julie." To mark the centennial, the esteemed Negro Ensemble Company, in its 45th season, has partnered with the newly formed August Strindberg Repertory Theatre to present "Playing With Fire," one of Strindberg's lesser-known works and one of the few that the Swedish playwright himself called a comedy.
A one-act play about an unorthodox love triangle, "Playing With Fire" has been adapted by playwright Leslie Lee, who has moved the setting from 1892 Sweden to the summer home of an affluent African-American family in a black enclave on Martha's Vineyard in 1926. Newt (Nathan James) is an artist married to a writer, Kersten (Toccarra Cash). The couple invites a friend, Axel (James Edward Becton), to stay with them. His visit re-ignites the passion that the wife and the friend have for each other but that both of them had suppressed long ago. Newt could almost be seen as a co-conspirator in this unconsummated affair, since Axel's obvious attraction to Newt's wife has elevated his own interest in her. Thrown into the mix are cousin Adelle (Jaleesa Capri), who is Newt's mistress, and Newt's mother and father (Elizabeth Flax and Jolie Garrett); the father apparently would like to ditch his wife and make Adelle his own mistress. Adelle for her part has her eyes on Axel. While both Cash and James give fine performances, it is frankly difficult to see why they are both drawn to Axel, played here as something of an insufferable dandy.
While an intriguing exercise in adaptation, "Playing With Fire" unfortunately suffers when placed against current or recent New York productions with which it can be reasonably compared.
Alan Rickman's 2010 production at the Brooklyn Academy of Music of Strindberg's better-known play "Creditors" had a similar theme of a love triangle and a complicated marriage. But it offered a cleverer, less static script, direction that was swifter, and acting that was more intense.
This past season's Broadway production of Lydia Diamond's "Stick Fly" presented a more thorough and richly inhabited picture of life among the black elite, also summering on Martha's Vineyard, albeit in modern times and not during the Harlem Renaissance. "Playing With Fire" does offer a few interesting glimpses of African-American life in the 1920s, although mostly inserted in awkward exposition.
Finally, the multiracial casting of "A Streetcar Named Desire" currently on Broadway allows audiences to look at a well-known classic in a fresh light. The all-black cast of "Playing With Fire" works fine, but it would be hard for audiences to find too much revelation in the new context of a play we did not know in the first place.
Presented by the Negro Ensemble Company and the August Strindberg Repertory Theatre in association with Theatre Resources Unlimited, at the New School for Drama Theater, 151 Bank St., NYC. May 26–June 10. Thu.–Sat., 7:30 p.m.; Sat., 2 p.m.; Sun., 3 p.m. (212) 868-4444 or www.smarttix.com.