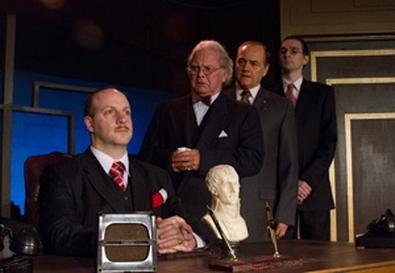 Ferenc Molnár was a Hungarian-born playwright best known in his adopted United States in the early and mid
–
20th century for such full-length works as "The Guardsman," a success for the Lunts; "The Swan"; and "Liliom," which became the basis for Rodgers and Hammerstein's "Carousel." As with so many of his contemporary writers, Molnár's lesser-known and shorter works have been lost in the mists of revival purgatory. This production rescues one of his forgotten, brief charmers, using an adaptation by Morwyn Brebner that debuted four years ago at Canada's Shaw Festival. What might have been considered a "madcap" comedy in the 1920s and a "screwball" comedy in the 1940s, "The President" has surprising contemporary relevance, offering a witty, sweetly gentle satire of American corporate greed and competition while also taking on the overweening importance of appearances, regardless of the truth. The cast of 22 is largely equal to extracting the many laughs from this slyly lighthearted life lesson.
The title character (Joe Danbusky) is the head of a bank in postÐWorld War II New York. His young temporary charge (Becca Pesce) has just announced that she has been secretly married to a Communist taxi driver (Matthew Waterson) for four months and is pregnant. The president panics, because he needs her straitlaced father, an Iowa soybean king, to bail out the bank from impending disaster. The young woman's parents are arriving in New York in an hour, which is how long the president has to transform the lowly cabbie into a cultured, wealthy, titled European gentleman. As the play unfolds manically in real time, running a little more than an hour, the president attempts this goal aided by a battery of secretaries and other corporate flunkies, whom he flatters with well-placed "oil" before he orders them about. Outside abettors include a doctor, a tailor, a florist, and a caterer. None of this would work were it not for the splendid believability of Danbusky, Pesce, and Waterson amidst a ridiculously silly situation.
Peter Dobbins has also directed the rest of his large cast to play as if the whole enterprise were perfectly logical. Because every entrance comes from the back of the theater, all the characters and actors get their due, no matter how brief their role in the proceedings. Given the extreme importance of appearances to the plot and the need to root the action in the 1940s, Meagan Miller-McKeever's multiple costumes deserve special mention.
Presented by the Storm Theatre Company at the Theatre of the Church of Notre Dame, 405 W. 114th St., NYC. May 5–26. Thu. and Fri., 7:30 p.m.; Sat., 2 and 7:30 p.m. (212) 868-4444 or www.smarttix.com.