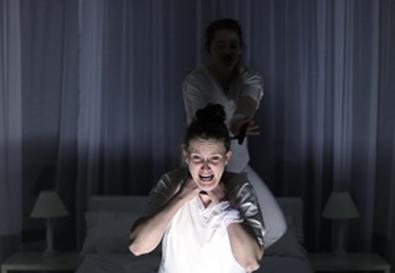 I'm all for meta productions and site-specific theater, but when the play being performed is essentially a long suicide note, things can get, well, messy. The trek to Magic Futurebox - essentially an abandoned warehouse of a theater - in Sunset Park for Sarah Kane's "4.48 Psychosis" can be a bit frightening, and I arrived unsettled but ready to experience Kane's poetic psychosis.
As I walked through the dark warehouse, I felt as if I was experiencing a psychological thriller first hand. Kane's play reads like a prose poem, with no stage directions or specific characters, leaving much of the production up to the director. Here, James Rutherford made the decision to cast just two performers, the very smart actors Emily Gleeson and Lizzie Vieh, to serve as Kane's id and ego. Their heated exchanges reflect the play's ensuing emotional turmoil. As the playwright's more rational self, Gleeson speaks in a harsh tone, walking sure footedly around the stage, while Vieh speaks in a higher register, seemingly influencing the playwright's decision to kill herself at 4:48 a.m. This balance of dominance and submission works beautifully and is particularly disturbing in an intense fight between the pair that involves the violent use of a belt.
The irony of the production design is that everything is white, a symbol of purity. Sarah Thea Swafford's matching costumes reflect the identical nature of the characters and blend nicely into Oona Curley's monochromatic set, nestled in a corner of the warehouse. The uses of fluorescent and soft lighting adds to the eerie and unnerving effect of the production.
It's difficult to encourage people to venture to the far reaches of Brooklyn for a 60-minute piece, but if you consider the trip part of the experience, it's well worth it. Just have something upbeat all cued up on your iPod for the walk.


Presented by and at Magic Futurebox, 55 33rd St., Brooklyn. May 10-27. Fri.-Sun., 8:30 p.m.; Sat., May 26, 3:30 p.m. (800) 838-3006 or www.brownpapertickets.com.