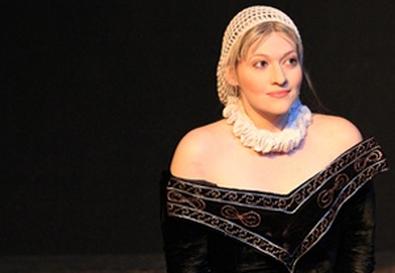 Familiarity with "Pulp Fiction" and the works of William Shakespeare is required for anyone attending "Pulp Shakespeare," a nimbly funny play that gives ye olde mash-up to Quentin Tarantino's seminal film and the Bard's singular style.

The plot follows Tarantino's nonlinear flick about chatty criminals to the letter, but the dialogue has been remixed into iambic pentameter, complete with obscure pop-culture references appropriate for 16th-century London. Yet thanks to a deft cast numbering 13—Aaron Lyons, Dan White, Hannah Beck, and Christian Levatino in particular are fantastic—and a cunning script by Ben Tallen, Aaron Greer, Brian Watson-Jones, and Jordan Monsell (who also directs), the connective tissue betwixt these two seemingly disparate sources will be evident even to the uninitiated.

Shakespeare and Tarantino both thrive on shockingly potent volleys of conversation. Even the most minor characters in "Pulp Shakespeare" are such stuff as vulgar gab is made on.

Presented by Her Majesty's Secret Players as part of the New York International Fringe Festival at the Cherry Lane Theatre, 38 Commerce St., NYC. Aug. 12–24. Remaining performances: Tue., Aug. 14, 8:30 p.m.; Sun., Aug. 19, 5:30 p.m.; Thu., Aug. 23, 9:15 p.m.; Fri., Aug. 24, 2 p.m. (866) 468-7619 or www.fringenyc.org.