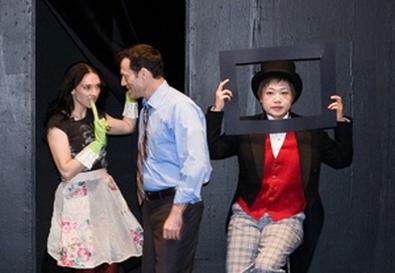 "This town will ass-rape your sanity till you're an empty shell." That's just one of the hilariously rude barbs hurled by the crazy, dysfunctional Manhattanites in Chris Harcum's raucous and rabid hourlong comedy "Rabbit Island," part of the Frigid New York festival. The main character, Alex, is not really a New Yorker at all but a displaced milquetoast Canadian mime desperately trying to fit into fast and furious Gotham. In his attempts to toughen up, he bounces among macho therapist Bob and two voracious girlfriends, the corporate shark Karen and the eccentric but equally ballsy performance artist Barbara. Unbeknownst to Alex, Bob is also servicing Karen as both a life coach and a lover and eventually moves on to Barbara. As this quartet jumps in and out of bed with each other, two clowns serve as a kind of slapstick Greek chorus.
Harcum draws an insanely funny portrait of crazed urbanites, perfectly balancing exaggerated parody with honest characterization. Each is searching for the key to happiness—or at least the absence of stress—through cockamamie theories. Karen insists that cleansing impurities is the answer; Bob believes that giving full vent to narcissism and aggression will do the trick; and Barbara follows her impulses no matter how ill-considered they may be. Alex is just trying to make it through the day without getting beaten up physically or emotionally. Director Aimee Todoroff also employs the right amount of satire and pathos in her staging. The nutty confrontations reach the edge of excess and stop short just before going over the cliff.
Ethan Angelica keeps Alex's indecisiveness from turning whiny and displays a strong facility for physical comedy when enacting a mime sequence. Carrie Heitman's Karen could have been a total bitch, and she's called one by most of the other characters, but Heitman focuses on her desperate search for love rather than her surface bluster. Mel House gives Barbara spice and spark and is especially funny when Barbara suddenly starts screaming curses at her radically feminist mother, who isn't even onstage. Joel Nagle earns yocks as the monstrously egomaniacal Bob. Phineas T. Haricot and Mariko Iwasa are the lovably goofy clowns and provide an entertaining pre-show. "Rabbit Island" is well worth a visit. The run is relatively short, so hop to it.
Presented by Elephant Run District as part of Frigid New York at the Kraine Theater, 85 E. Fourth St., NYC. Feb. 23–March 3. Remaining performances: Sat., Feb. 25, 8:30 p.m.; Mon., Feb. 27, 7:30 p.m.; Thu., March 1, 6 p.m.; Sat., March 3, 5:30 p.m. (212) 868-4444, www.smarttix.com, or www.frigidnewyork.info.