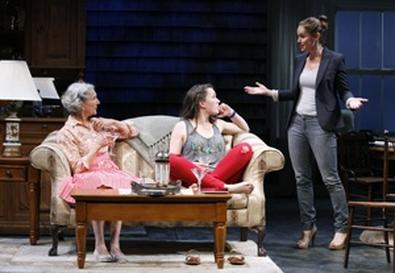 Playwrights Horizons has another winner with "Rapture, Blister, Burn," Gina Gionfriddo's caustic examination of the state of feminism today. The author of the terrific "Becky Shaw" thankfully hasn't written a treatise, filling her play with five complex characters struggling to find a way to "create a life that makes you happy." Packed with humanity, wit, and plenty of compelling argument, the show is a hugely entertaining cross between Bernard Shaw and Wendy Wasserstein.
Celebrity author Catherine, in her early 40s and known for her tomes examining pornography and feminism, has returned on sabbatical to the small New England town where her ailing widowed mother, the sensible Alice, is recovering from a heart attack. Also living in the town are Gwen and Don, Catherine's former grad-school roommate and boyfriend. Originally a tight trio, they suffered a schism when Catherine went to London on a fellowship and Gwen married Don. Now, 13 years later, Catherine has come to Don, a dean at the local college, looking for a teaching job, with the blessing of newly sober Gwen, who is unhappy as a full-time housewife with two kids yoked to a pot-smoking, porn-watching, beer-drinking underachiever. Also in the mix is 21-year-old college student Avery, who used to babysit for Gwen and Don until Gwen fired her for showing up with a black eye sustained while making a reality-TV project with her boyfriend.
Workaholic Catherine asks Don to set her up teaching summer school, and the result is a class on Catherine's signature subjects with precisely two students: Avery and Gwen. The former best friends are jealous of each other's lives, Catherine longing for husband and family (she fears being alone if her mother dies) and Gwen, who dropped out of school to marry, wanting freedom and a career. The class meets in Alice's home, where Catherine is living, and we are treated to spiky discussions about women's roles and needs from a perspective of three generations, underpinned by the characters' tangled relationships. How Gionfriddo sorts it all out is a large part of the appeal, so I'll say no more, except that the pronouncements of famous traditionalist Phyllis Schlafly prove amusingly important to the process.
Under director Peter DuBois' astute and fleet direction, the cast sparkles. Amy Brenneman is a commanding Catherine, an intriguing mixture of whip-smart ego, restless drive, and gnawing doubt. Kellie Overby excels at humanizing the potentially annoying Gwen, whose contempt for a life many women would be happy to have Overby somehow makes sympathetic. Lee Tergesen's easygoing, unconsciously sexy Don is a funny-sad picture of middle-aged malaise as he struggles to live up to the expectations of the women in his life. The regularly excellent Virginia Kull is a riot as the casually foulmouthed girl-woman Avery, full of the confident certainties of youth and willing to look life square in the eye and spit when necessary. The wonderful Beth Dixon adds a welcome taste of spice as Alice, warmly maternal yet rigorously unsentimental. Resolutely candid, Alice tells her daughter that "life begins when your mother dies," and in Dixon's hands it feels like an act of love.
Alexander Dodge's ingenious shake-and-shingle set moves smoothly among locales under Jeff Croiter's adroitly emotional lighting, evoking New England academia in tandem with Mimi O'Donnell's character-revealing costumes and M.L. Dogg's subtle sound design. It's another example of Playwrights Horizons' simple but elegant production standards.
The title appears to come from a line in a Courtney Love song recorded by Hole, "Use Once & Destroy," whose angst-ridden lyric is laden with bleak imagery of pain, longing, and emptiness. Those things are certainly present in "Rapture, Blister, Burn," but they are more than balanced by love, forgiveness, and bravery.
Presented by and at Playwrights Horizons, 416 W. 42nd St., NYC. June 12–24. Tue., 7 p.m.; Wed.–Fri., 8 p.m.; Sat., 2:30 and 8 p.m.; Sun., 2:30 and 7:30 p.m. (212) 279-4200 or www.ticketcentral.com. Casting by Alaine Alldaffer.