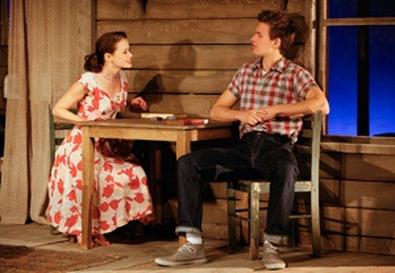 It hasn't been a winning season for Manhattan Theatre Club Off-Broadway. First up was Zoe Kazan's promising but muddled family melodrama "We Live Here." Next came poor David Hyde Pierce flailing about in Molly Smith Metzler's synthetic comedy "Close Up Space." Now we have Matt Charman's strenuously gerrymandered drama-with-a-big-secret, "Regrets." All I can say is, if you go, you'll have a few.
The setting is a Nevada desert retreat circa the 1950s, where men rent cabins for six weeks to establish residency to gain a divorce. Already ensconced are a collection of stereotypes: Alvin Novotny, nerdy, nervous, and needy; Gerald Driscoll, abusive and alcoholic but with a good heart; and Ben Clancy, taciturn, decent, and strong, whose occupancy seems to be permanent. Into this enclave comes still-wet-behind-the-ears Caleb Farley, who looks far too young to need a divorce and, as he's the one who's carrying that big secret, keeps himself to himself. The men are looked after by Mrs. Duke, the sassy, no-nonsense African-American proprietor, who strictly enforces a no-female-visitors policy and is the bane of local girl Chrissie Meyers, who works the cabins trading sexual favors for cash. In Act 1 the men pry into Caleb's history to little avail. The secret is revealed just before intermission by the mysterious arrival of another man, and Act 2 explores the consequences for everyone.
Charman is depressingly fond of obvious setups. When Mrs. Duke snaps at Caleb to unhand a small dog statue sitting on a shelf in his cabin, we know it will end up broken. (If it means so much to her, why is the darn thing in a guest cabin in the first place?) When Alvin is taunted for being scared to play his beloved clarinet, which he hasn't touched in 12 years because his wife banned him from playing it in the house, it's only a matter of time before he gains the guts to blow on it. Will Ben spill the beans on why he can't go back to his former life as a teacher? Is the pope a homophobe?
The ham-fisted writing is at least occasionally ameliorated by some of the performances. Best is the understated Brian Hutchison, a quietly manly Ben, whose honesty undercuts the melodramatics. Lucas Caleb Rooney handles Gerald's drunken meltdown without wallowing in the obviousness of the character's self-loathing. Ansel Elgort, a senior at Fiorello H. LaGuardia High School of Music & Art and Performing Arts, imbues the blank Caleb with hidden reservoirs of feeling. The indispensable Adriane Lenox's fierce tartness cuts the cuteness of Mrs. Duke's 'tude, but she had much more effect on this same stage in one tiny scene in "Doubt" than she can achieve in this much larger but inferior role. Alexis Bledel, however, playing Chrissie in her New York stage debut, doesn't seem to know how to fill out her underwritten character. Furthermore, director Carolyn Cantor should remind the TV and film actor that she is not off camera when silent in a scene. I watched with dismay in Act 2 as Chrissie, who has arrived after a beating from her father with a violently colorful contusion on her cheek, absent-mindedly scratched the wound with her fingers as she listened.
Cantor doesn't help matters with forced staging of her own. Chrissie at one point snatches up that infernal dog and playfully keeps it from Caleb. Once he finally retrieves it, he quickly puts it down right on the edge of the kitchen table, rather than restoring it to the shelf just above. Can you possibly imagine why?
The confident realism of Rachel Hauck's rickety set, Ilona Somogyi's period garb, and especially Ben Stanton's mimicry of natural lighting only reinforces the artificiality of the script. I heard audience members tossing around words such as "formulaic" and "trite" even before they had exited the theater. Not a good sign.
Presented by Manhattan Theatre Club at New York City Center Stage I, 131 W. 55th St., NYC. March 27–April 29. Tue. and Wed., 7 p.m.; Thu.– Sat., 8 p.m.; Wed., Sat., and Sun., 2 p.m. (No performance Wed., March 28, 2 p.m.) (212) 581-1212 or www.nycitycenter.org. Casting by Nancy Piccione.