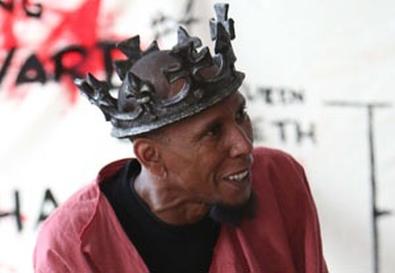 Was William Shakespeare's Richard III a bad kid? If so, he apparently concealed his tendencies rather well from the family members and others he would eventually slay. In the play's opening speech, an adult Richard determines to "prove a villain" going forward. If you take him at his word, evil is something akin to a new science project. He has quite a run with this villainy game until the last act, when he discovers to his sleep-disturbed chagrin that he has a "coward conscience" after all.
Whether Richard is innately evil and to what degree and with what speed his conscience emerges are questions anyone portraying the king must face. In the adaptation directed by Amanda Dehnert for the Public Theater's Mobile Shakespeare Unit, Ron Cephas Jones doesn't show a completely clear trajectory. He does give Richard some effectively sadistic tendencies. Early on in the Public's version Richard murders his brother Clarence (Miriam A. Hyman). (In Shakespeare's uncondensed edition the killing is done by dispatched assassins.) Jones gives the disguised Richard a funny, nerdy, robotic voice, even while he cold-bloodedly squeezes the life out of Clarence. It's a chilling few moments. Jones is tall, with menacingly flashing eyes, and even with a braced leg and one inert arm he makes Richard physically imposing. But occasionally the actor relies on some fairly standard-issue malevolent cackles to show what a bad guy Richard is. If he wanted to succeed as a villain, would Richard announce his monstrousness to all within earshot?
For all the violence in the play, the horror in this production seems scant. The script has been whittled down from five long acts to 90 or so uninterrupted minutes. Ordinarily, when the Mobile Shakespeare Unit actors perform it—in prisons, homeless shelters, and community centers—they act in a bare room, with basic props and whatever lighting is available. At the Public the presentation is similar, with the house lights remaining up throughout the show. This creates a Brechtian distance between the audience and the play's brutality. The murders are depicted in stylized, presentational fashion. A canvas on the stage floor displays the royal family tree. With each homicide, another name is crossed off with blood-red paint. The bit gets laughs. It's like a macabre but amusing board game.
The supporting cast members play multiple roles using varying performing styles and achieve different degrees of success. Michelle Beck's Lady Anne—who is swiftly wooed and won by Richard (especially swiftly in this version)—lacks nuance. She seems not particularly bewildered by her own susceptibility to his sexual advances. Michael Crane gives a finely rendered turn as the opportunistic Buckingham, but his relatively naturalistic approach seems out of sync with that of most of the others.
As the vengeful Queen Margaret, Suzanne Bertish provides the liveliest work. Savoring each curse she delivers, Margaret is like the village crank showing up at a town council meeting and reading everyone the riot act: a drama queen in the best sense.
Presented by and at the Public Theater, 425 Lafayette St., NYC. Aug. 11–25. Mon.–Thu., 7 p.m.; Fri., 5 and 9 p.m.; Sat., 2 and 7 p.m. (212) 967-7555 or www.publictheater.org. Casting by Jordan Thaler and Heidi Griffiths.