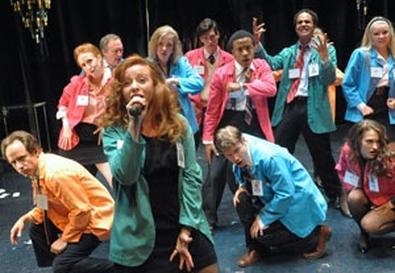 Caryl Churchill's "Serious Money" has not been seen in a major New York City production since 1988. This scathing financial satire in rhymed couplets was a major hit in London and then transferred to the Public Theater with the original British cast. The limited Off-Broadway run was a sellout hit, and producer Joseph Papp recast it with American actors (including Alec Baldwin and Kate Nelligan) and put it on Broadway, where it closed after only 15 performances. Now the Potomac Theatre Project is remounting "Money," and after the crash of 2008 and the rise of the 1 percenters, Churchill's piercing and merciless portrait of the world of stocks, trades, and arbitrage has a frighteningly familiar resonance.
The play takes place in the late 1980s soon after Conservative Prime Minister Margaret Thatcher has deregulated the markets, an act referred to as the "big bang" for its explosive impact. Old-school upper-crusters are overwhelmed by lower-class movers and shakers as class barriers fall. Amid international takeovers and double-crosses, spunky futures dealer Scilla Todd investigates the mysterious death of her brother Jake, who was selling secret information to American businesswoman Marylou Baines. Along the way, Scilla crosses paths with a galaxy of greedy gobblers, including ballsy banker Zac Zackerman, ruthless raider Billy Corman, and pernicious Peruvian millionaire Jacinta Condor. Churchill adroitly skips back and forth across timelines and continents as Scilla's journey leads her through a labyrinth of shady dealings.
The playwright unsparingly shines a harsh spotlight on the culture of blind, excessive monetary profit. Scilla's prime motive in finding her sibling's killer is not to gain revenge or assuage her grief—which is nonexistent—but to grab her share in the huge income Jake was reaping as a percentage of Marylou's deals. The rhyming dialogue is intricate and witty, spinning puns and wisecracks with dazzling ferocity. Director Cheryl Faraone cracks the whip over this mad circus with an authoritative flick of the wrist. Her staging is fast, sharp, and inventive. Particularly engaging are a weekend fox-hunt scene that has the actors energetically miming their mounts and two Brechtian musical numbers choreographed by cast member Alicia Evancho as orgies of avarice.
The large company of professionals and recent college grads gives the somewhat caricatured figures just the right hard comic edge, with the slightest hint of humanity lurking beneath their razor-sharp fangs. Tara Giordano supplies Scilla with the necessary murderous drive. Megan Byrne is especially funny as the mercenary Marylou and Mrs. Etherington, a prim stockbroker. As the wheelers and dealers cross the line into unethical behavior, Byrne elicits gales of laughter with the shift of an eyebrow or a disapproving grimace. Brent Langdon skillfully conveys the bitter disappointment of Greville, Scilla's befuddled banker father, who sees his orderly way of life crumbling. Jeanne LaSala Taylor captures Jacinta's enticing narcissism, Alex Draper is the perfect hard-charging Corman, and David Barlow is a smoothly charming Zackerman.
Set designer Hallie Zieselman cleverly makes use of limited resources by adorning the environment with chandeliers made of inverted champagne bottles and hanging telephone receivers that the characters frequently pull down to conduct their rapid-fire, rapacious business.
Presented by PTP/NYC (Potomac Theatre Project) at Atlantic Stage 2, 330 W. 16th St., NYC. July 10–29. Schedule varies. (212) 279-4200 or www.ticketcentral.com.