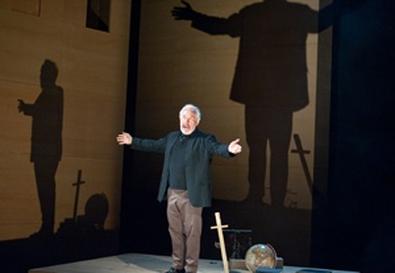 Half academic lecture, half performance piece, "Being Shakespeare" features the brilliantly articulate Simon Callow leading us on a guided tour of the Bard's life and work. The script, by Shakespearean scholar Jonathan Bate, uses the predictable framework of the "Seven Ages of Man" speech from "As You Like It" to explore the artistic development and personal life of the world's greatest playwright. Attired in a simple sport coat and slacks, Callow addresses the audience with a casual, nonthreatening tone, easily transitioning into excerpts from the plays and sonnets to illustrate moments in Will's journey from the son of a glover in the small market town of Stratford-on-Avon to a wealthy and respected chronicler of not just the Elizabethan age but the human condition.

In less than two hours (with intermission), Bate addresses a multitude of issues, offering a sort of greatest hits overview of Shakespeare studies. He touches on the controversial scholarly disputes over the "real" writer of the works, striking down those who question Shakespeare's authorship as snobs who can't accept the idea that such sublime poetry could issue from a lower-middle-class mind. A look into the social structure, educational system, and living habits of the period is fascinating. Did you know that everyone wore gloves in the 16th century? There's also a bit of Freudian psychology, with Bate examining the roles of a distant father and an intimate mother in young Will's growing up.

But the most rewarding aspect of this relatively brief evening is Callow's precise and pointed portraiture of a diverse gallery of famous characters. The most delightful sequence is the rehearsal scene from "A Midsummer Night's Dream," in which the actor plays all the rude mechanicals, endowing each with a distinct but equally bubbly enthusiasm for his task of enacting the romance of Pyramus and Thisbe before the Duke of Athens. In other moments, Callow vivifies the adolescent ardor of Romeo and Juliet, the virile mustering of the troops by Henry V, and the cynical dismissal of the concept of honor by Jack Falstaff. One tantalizing bit has Callow gleefully biting into the bloodthirsty ravings of Queen Margaret from the "Henry VI" plays, causing me to speculate about a full transgender performance of this rich and mad figure.

Tom Cairns directs smoothly and also designed the bare set, which thanks to Bruno Poet's shimmering lighting and Ben and Max Ringham's evocative music and sound design becomes everything needed, including a child's nursery, a creepy forest, a vast battlefield, and the bustling city of London.

Presented by Brooklyn Academy of Music, Ambassador Theatre Group, Act Productions, and Robert Bartner and Norman Tulchin at BAM Harvey Theater, 651 Fulton St., Brooklyn, N.Y. April 4–14. Tue.–Sat., 7:30 p.m.; Sun., 3 p.m. (718) 636-4100 or www.bam.org.